Walmart Fired This Guy for Doing the 2 Things People Go to Walmart For
April 6th 2016
By:
A social media campaign called "Hugs for Frank" is protesting a Missouri Walmart's firing of a beloved employee of nearly 20 years for allegedly doing something most customers expect — giving them hugs and deals. The Facebook page includes plans to protest in front of the West Plains Walmart on Saturday for Frank Swanson, the cashier who was fired.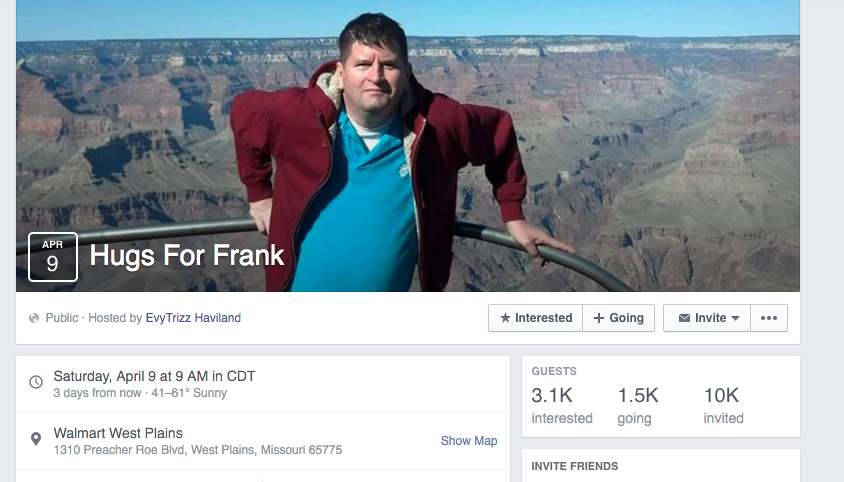 Facebook/Hugs for Frank - facebook.com
Swanson's supporters even posted messages of protest on the local Walmart's Facebook page. Under a post that said "We're Hiring!" Facebook users criticized the company for firing Swanson.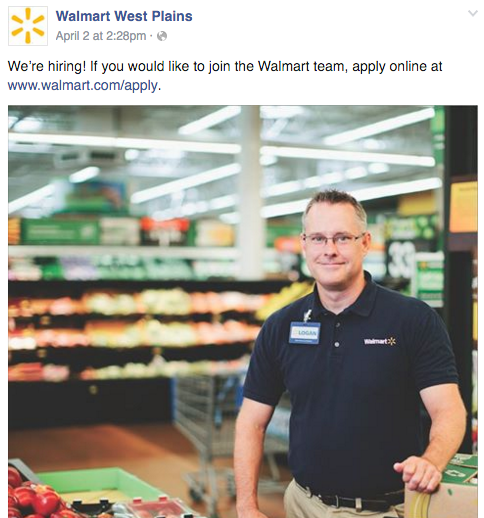 Facebook/Wal-mart West Plains - facebook.com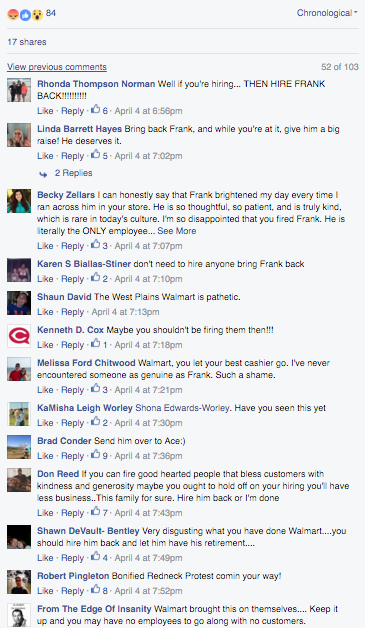 Facebook/Wal-mart West Plains - facebook.com
Frank is a hugger.
ATTN: spoke to Swanson, 52, and he said that the company got rid of him for "good customer service." He would often hug customers, including older women, who "wouldn't probably get a hug any other time," he said.
He said that in January management asked him not to hug customers anymore unless they gave permission, so he changed his approach. "I was asking the ladies if I could give them hugs before I hugged them," he said. "They said yes."
However the reasons for Swanson's firing are more complicated than just hugs, according to Swanson and his brother Drexel.
The other reason is money.
Swanson claims that the incident that got him fired was over less than a dollar. He said he offered to match the price of an item that was being sold for .50 cents less by a competitor. "I was checking out a lady who had some iced tea," he said. "Someone had it on sale in town."
Frank gave the woman the lower price. He said that Walmart's policy was that there needed to be an ad to prove that another store in the area offered that lower price. Although the woman didn't have a circular ad with her, Swanson said he had seen the Red Diamond Ice Tea ad in the paper that he keeps in the break room. He said that he knew the woman was right.
Frank's brother, Drexel Swanson, told ATTN: that Frank routinely memorized the local prices for that day so he could price match for customers. "Frank had left his ads in the break room as he always did, once he memorized them, for other associates to see what's on sale that week with their competitors," he said. "Yes, he memorized them for his customers. He read them and studied them like there was going to be a test."
However according to Frank Swanson, Walmart managers pulled him aside after the transaction and told him that he was fired because he hadn't received the ad from the customer to price match it. When Swanson went back to the break room to find the ad, the circulars were gone.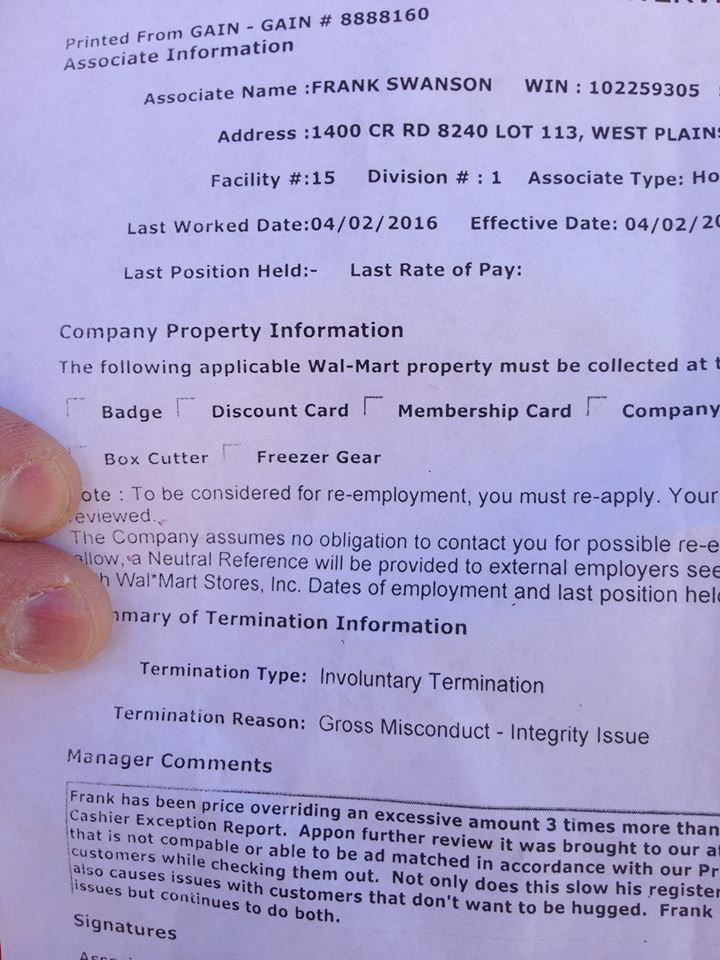 Drexel Swanson
Drexel Swanson
But Drexel Swanson said that his brother went above and beyond to prove that he was right.
"Frank drove to Willow Springs this morning and had them go back into their archived papers, and just like Frank remembered, [in the] bottom right corner [there was an ad for] Red Diamond Iced Tea on sale at G&W Willow Springs [for] $1.98 and [the Walmart Frank works at] price matches Willow Springs," he said.
Here's Frank with the ad.
Drexel Swanson
Here's how Walmart is responding to the backlash:
ATTN: reached out to Walmart to ask them about the circumstances of Frank's firing, including the fact that he had provided evidence that his price-matching was legitimate. Here's what they told us:
"Letting an associate go is never easy. It is important to note that we have a progressive discipline policy where performance issues move an associate to the next step. For this associate, point-of-sale policies had not been followed in some instances. A recent violation of those policies moved the associate to the final step of our discipline process, resulting in his dismissal."
Walmart's corporate policy requires customers to alert employees to competitor's sales for price-matching, however, "it is the store's responsibility to obtain the local competitor ads."
Frank is a fighter.
Drexel Swanson told ATTN: that his brother did not deserve to be fired. He added that despite a childhood injury that left Frank in a coma for 6 weeks, he survived and lives life to the fullest.
"My brother doesn't have a mean bone in his body. His purpose in life since his accident has always been to make other people feel good about themselves and to bring a smile to their face. He loves to hug people, especially the older generation. He says they don't get enough hugs in their life. That's Frank Swanson, my brother, and I am proud to call him my brother."
Share your opinion
Do you think Frank Swanson should have been fired?