The States Where Daycare Costs More Than College
April 15th 2016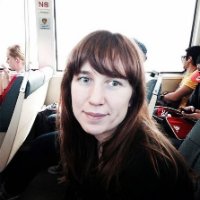 By:
The rising cost of college has played a major role in the 2016 presidential election, but new economic research shows that the earliest stages of a child's education can pose an even greater financial burden.
A study published earlier this month by the Economic Policy Institute revealed that in nearly half of the country, daycare is even more expensive than higher education.
Quartz.com pulled EPI's data to map out how the cost of daycare as compared to in-state-college tuition in each U.S. state.
Childcare vs. college tuition across the U.S.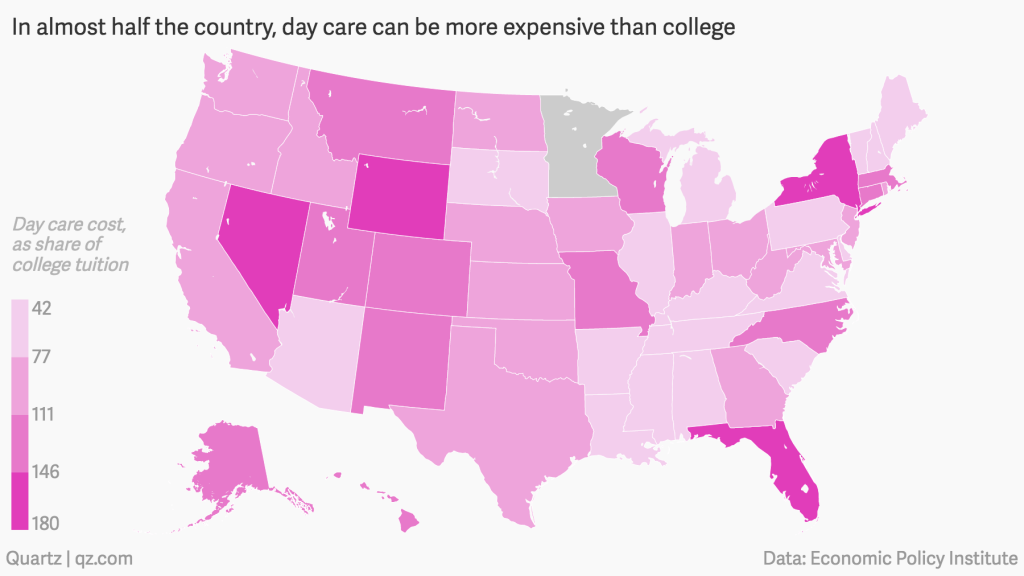 Quartz - qz.com
In the darker shaded states, daycare costs are proportionately higher compared to college costs.
EPI reports that in Florida the average childcare cost for a 4-year-old amounts to $7,668, almost double its in-state college tuition of $4,423. Infant care is even more expensive in Florida, and costs $8,694 per-year, which is 16.6 percent of the typical family's income, according to the EPI.
Things aren't any better in New York. At $11,700, the state's daycare costs are closer to the price of in-state college tuition (107 percent), but infant care averages $14,144 per-year, a staggering 21.2 percent of the typical income of a family with one child, and only 5.9 percent less than their average rent. Families with more than one child face even greater financial burdens.
"Child care for two children — an infant and a 4-year-old — costs $25,844. That's 72.0 percent more than average rent in New York," the EPI reports.
In South Carolina, childcare is considerably cheaper compared to college — around half the cost of in-state tuition. However, as Jezebel points out, the state's college tuition is high while the median income is low, suggesting that childcare costs still place a considerable strain on South Carolina parents.
"The US government defines 'affordable' childcare as that which costs less than 10 percent of a family's income; yet only 10 states have average childcare costs that meet that standard, the EPI found, based on calculations with the median income for a family of four," Quartz reported.
What happens when the cost of childcare is too high.
The cost of childcare has almost doubled since the mid-1980s, according to a 2013 Census report. As ATTN: has previously reported, the cost of childcare often contributes to young couples' hesitancy to have children.
When childcare becomes unaffordable, it often forces women out of the workplace. This further reinforces economic inequalities, as families with only one working parent are less able to invest in educational and enrichment programs that would benefit their children later on.
A Care.com survey cited by Fortune noted that, "69 percent of parents say that the cost of care has impacted their career decisions, and a quarter of parents have switched jobs for better family benefits."
The EPI study authors assert that the time and effort exerted by low income families on childcare cannot match up to the economic resources of richer families:
"Essentially, families in the lowest income classes have increased their investment effort in childhood development more rapidly than families with higher incomes. But because increasing income inequality has channeled so much more money to these higher-income families, the absolute level of resources devoted to children has become increasingly unequal."
Forcing working mothers out of their jobs also hurts the economy.
"The benefits of boosting women's labor force participation through the provision of more and better child care access and affordability are potentially enormous. Women are, of course, half of the potential workforce, and each 1 percent boost in the overall workforce increases total national income by 1 percent, or roughly $180 billion," the EPI reported.
Share your opinion
Should the government help low income families pay for daycare?