Tess Holliday Just Dropped A Truth Bomb About Plus-Size Pregnancy Shaming
April 19th 2016
By:
Model Tess Holliday just wrote a lengthy Facebook post about the unique pregnancy shaming she receives as a plus-size woman.
Holliday, who is eight months pregnant with her second child, wrote that she has faced many unsolicited and "uneducated" comments from critics since going public with her pregnancy. Some have said she looks like she's carrying quadruplets and others have claimed she is endangering her child because of her size.
Holliday added that she is not like the female celebrities who strive for a perfect "post-baby body."
"When 'celebrities' are pregnant in the press, they look glamorous, toned & are eager to talk about how they are going to get the baby weight off," Holliday wrote. "While I've done my best to look as put together as possible, that's not real life, & it's not for most women."
She encouraged her female followers to embrace their pregnancies and bodies no matter what people say:
"However I'm part of a small minority that's telling you it's okay to not have a perfect baby bump, or not show at all, to be plus-size & have a healthy child, & most importantly to find a care provider that doesn't shame you about your size. It's also okay to tell someone to fuck off when they give you unsolicited advice about what's 'best' for you & your baby. As women, we know what's best & that's our business. No one else's."
The Mayo Clinic writes that there's no "one size fits all" approach to pregnancy weight gain.
The clinic's website states that overweight women can face a higher risk of experiencing pregnancy complications. It also states that "some research suggests that women who are obese can safely gain less weight than the guidelines recommend." The Mayo Clinic encourages working with your health provider to "determine what's best in your case and to manage your weight throughout pregnancy."
Dr. Naomi Stotland, an associate professor in the department of Obstetrics, Gynecology, and Reproductive Sciences at the University of California, San Francisco, told Shape that a woman's starting weight should determine how much she should gain during her pregnancy. The Institute of Medicine (IOM) suggests gaining less weight if you're overweight at the beginning of your pregnancy and putting on more weight if you're underweight at that same point.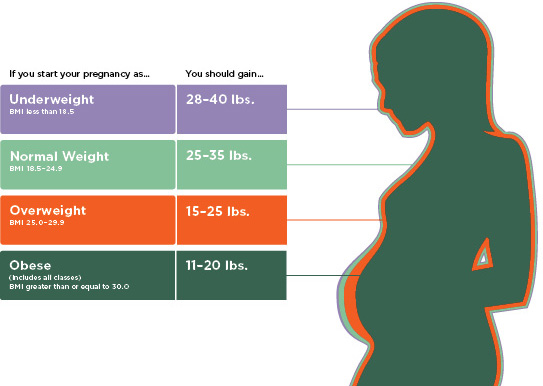 Institute of Medicine - umd.edu
"A woman's starting weight is the most important factor in coming up with a target weight gain," she said. "Statistically, you and your baby are more likely to have health complications if you gain more or less than the recommended healthy weight, but every woman is different and some might gain more and have none of these complications."
Holliday's post has received nearly 1,000 shares and 17,000 likes as of writing time.
Fans have also written in the comments section that they can relate to Holliday's struggle as a plus-size mom: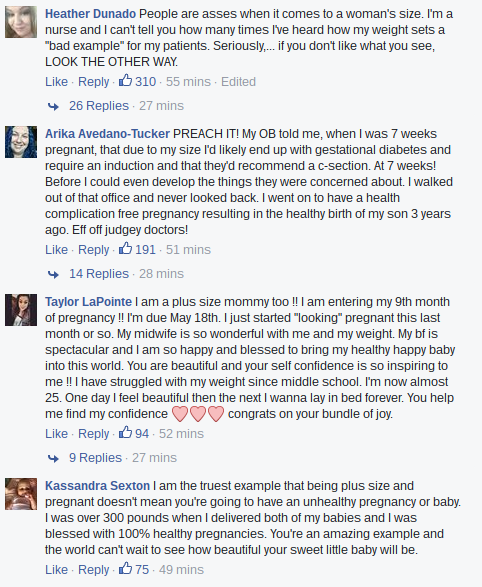 Comments - facebook.com
Holliday, who says she exercises multiple times a week and has a trainer, told Us Weekly in March that Bines appeared to criticize her personal choices as a pregnant woman.
"She basically said I was doing an injustice to my [unborn] child by being fat and pregnant and unhealthy," Holliday said.
Share your opinion
Do you know anyone who has been shamed during pregnancy?