Here's What Happens When Beyoncé's Fans Choose You as Their Target
It took less than 24 hours for Beyoncé fans to work through the artist's new album "Lemonade," which dropped along with an HBO special on Saturday. In addition to loving the album, her fiercely loyal fans are rushing to the conclusion that it's an autobiographical work about actual martial infidelity and that fashion designer Rachel Roy is at the heart of the trouble. (The designer was also rumored to be at the center of the famous Solange elevator smack down in 2014.) Hold onto your Beyhive; there's serious slut-shaming ahead.
Latching onto song lyrics, particularly from the track "Sorry," fans have come to believe that Rachel Roy is "Becky with the good hair" and that she's the "side chick" responsible for rumored trouble between Beyoncé and husband Jay Z. The line in question goes like this: "He only want me when I'm not on there / He better call Becky with the good hair."
Roy also — perhaps inadvertently or perhaps preemptively — fanned the flames Saturday by posting a now deleted photo to her Instagram account with the caption: "Good hair don't care, but we will take good lighting, for selfies, or self truths, always. live in the light #nodramaqueens."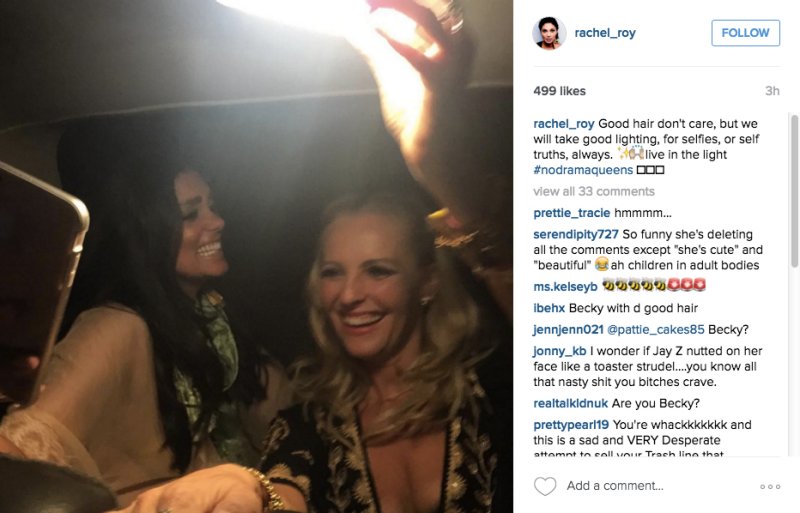 The Daily Beast - thedailybeast.com
That's not a lot to go on, right? That cryptic message is certainly enough for fans of Queen Bey, who have pounced on the fashion designer viciously enough to result in a response from Roy on Twitter:
Fans have gone on the offensive against Roy on Instagram, where her account is now private, on Twitter, and even on Wikipedia where someone updated her page to say that she had died. New York Magazine reports that Roy's Wikipedia page was updated 182 times in less than one hour since the attacks started, including users changing her name to "Rachel Roach" and "Dusty Side Hoe who died under a lemonade stand." Wow.
Even celebrity chef Rachel Ray has come under fire from angry Beyoncé fans in a case of mistaken identity.
So what's going on here?
Amidst the angry twitterstorm is one Twitter user who says it all:
She's right, and we've witnessed similar trials by Twitter before. Remember the recent attacks on R&B singer Kehlani for her alleged infidelity to boyfriend and basketball star Kyrie Irving? She was almost driven to suicide by the relentless attacks on her character on social media, which left her rumored partner-in-crime, ex-boyfriend and rapper Jahron Anthony Brathwaite, virtually untouched.
This double standard in which it's assumed that women should have an innate sense of modesty and limited sexuality is why the Beyhive is going after Roy so fast and furious — and not Jay Z, who would be equally responsible, if the rumors are true. Women are predominantly the ones who are attacked for rumored sexual behavior rather than men, and while infidelity is never something to support, this kind of slut-shaming is something we should find equally reprehensible.
Share your opinion
Do you think that Rachel Roy's treatment is slut-shaming?