Twitter's Response to This Old Navy Ad Is Really Gross
Clothing retailer Old Navy posted a seemingly innocuous ad on Twitter Friday featuring a photo of a smiling family to promote an upcoming sale. But Twitter erupted over the composition of the family: an interracial couple and their child.
The ad has received more than 3,449 likes as of Sunday afternoon, but has also generated a virulent racist backlash in response to the original tweet. It's gotten so bad that the negative comments have even been noticed on other social media outlets.
Users have posted accusations that Old Navy is engaging in "racial genocide" as well as suggesting that the brand is spreading "anti-white propaganda."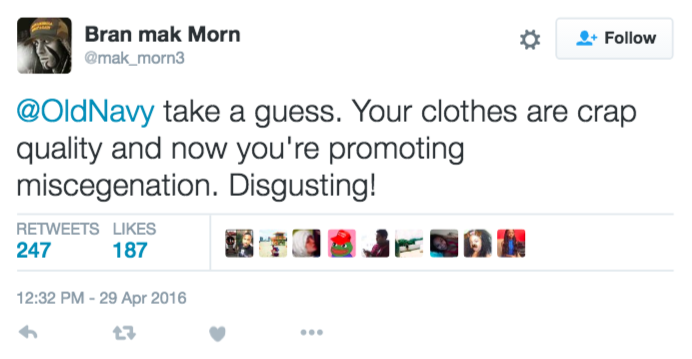 Twitter

Twitter
This has happened before.
Sadly, these types of attacks aren't new.
Cheerios released a commercial in 2013 featuring an interracial family sitting down to eat cereal together. While the ad was targeting consumers to discuss the heart health benefits of whole grains, the extreme racist response to the video on YouTube caused the website to shut down the comments section.
Prior to ending users' ability to comment on the video, the area below the commercial had been filled with references to Nazis and racial genocide, according to Adweek. Angry viewers also took to Facebook to express their disgust with the General Mills cereal, posting on the Cheerios' Facebook page that the commercial made them "want to vomit" and was "disgusting."
Luckily, not everyone is having a racist freak out.
Before you lose your faith in the internet, it's good to know that some Facebook users seem to be showing the love this time around for advertising that features interracial families. At time of press, only supportive comments had been posted to the advertisement on the company's Facebook page: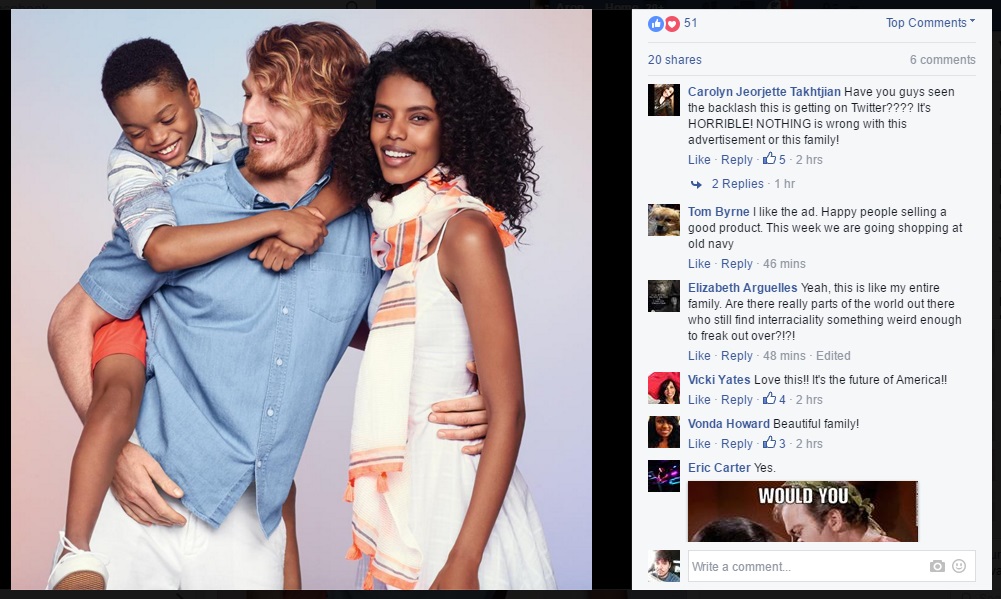 Old Navy/Facebook - facebook.com
Some Twitter users have also come to the company's defense, calling out their fellow Twitter users for their racism and expressing their support for interracial families:
Millennials lead the way in support for interracial marriage, with 88 percent of white young adults stating that they would be fine with a family member marrying someone of a different race or ethnicity, according to a 2010 Pew study. Sadly, that number drops as low as 52 percent for white Americans between 50 and 64 years of age — and to only 36 percent for white people over 65.
Share your opinion
Have you ever been in an interracial relationship?