Here's How the World Is Reacting to Trump's Big Win
May 4th 2016
By:
Donald Trump's domination in the Indiana Primary basically solidified his status as the Republican Nominee for president.
Trump's coronation as the new leader of the Republican party is not inspiring confidence in the rest of the world. 
Canada
England
South Africa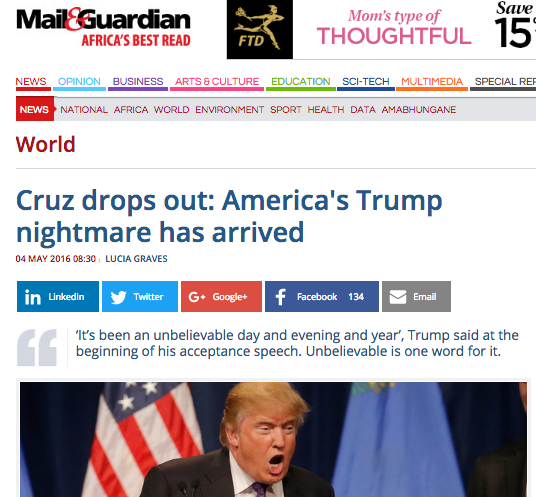 Mail & Gaurdian - co.za
Australia
Pakistan
In the past, world leaders haven't been too kind to Trump, either. Iranian President Hassan Rouhani said that Trump probably couldn't find Iran on a map and the Prime Minister of Iraq Haider al-Abadi called him "exreme," according to CNN. Saudi Prince Alwaleed Bin Talal called him a disgrace.
China, the country Trump has antagonized most during his campaign, also has a dim view of the GOP's presumptive nominee. Their state run newspaper "Global Times" called Trump "big-mouthed" and said that he often will "act like a clown," according to CNN.
Share your opinion
Does what other countries think of our election matter to you?