7 Examples of Political Pandering during This Election
May 5th 2016
By:
Political pandering can be difficult to define, but as the old saying goes, "you know it when you see it."
Americans saw it on Thursday afternoon.
In the world of politics, pandering usually means doing something unreasonable or ridiculous in an obvious effort to get votes from a particular group. Thankfully for us, it usually leads to funny moments.
Here are seven examples of political pandering this election.
1. Donald Trump's Cinco de Mayo Celebration.
Donald Trump wants people to forget about that time he called Mexican immigrants "rapists" and that whole "build a wall" thing. In fact, he loves "Hispanics" so much that he eats taco salad in Trump tower on Cinco de Mayo, a holiday that's not quite "Hispanic," but it is Mexican. He was in the ballpark, and that's probably all that matters to him.
People on Twitter savaged the staged celebration:
2. Hillary Clinton is your Latina grandmother.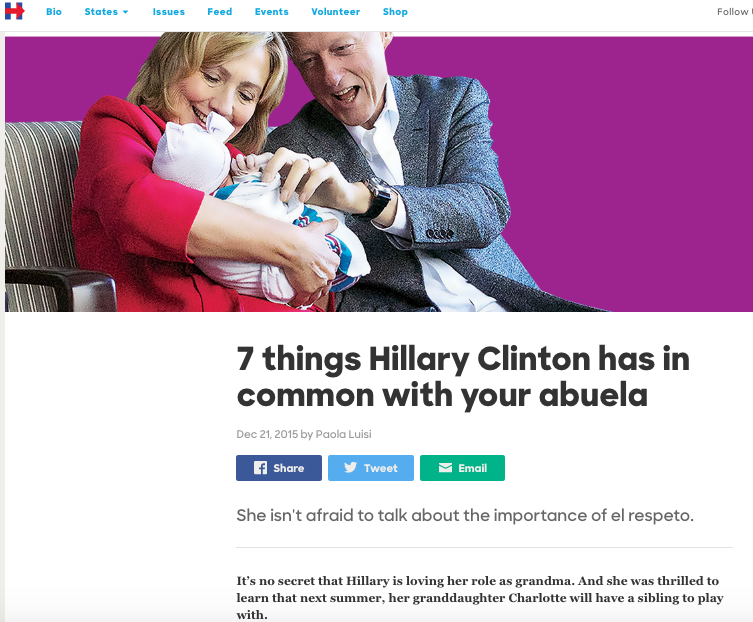 hillaryclinton.com - hillaryclinton.com
Hillary Clinton wanted everyone to know that she really enjoys being a grandmother. She also wants you to know that there are multiple reasons she loves her granddaughter in the same way that your sweet abuela loves you. They're pretty much the same person, and she can help you the same way that your abuela does, but only if you elect her.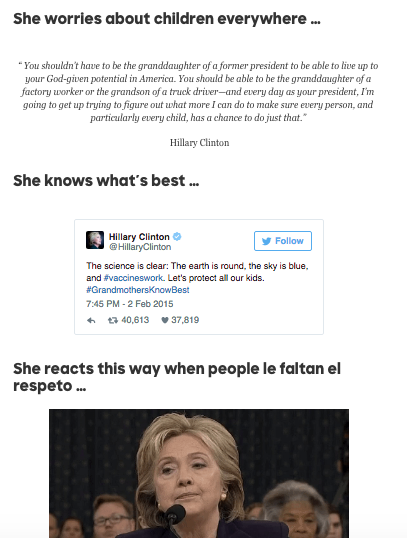 hillaryclinton.com - hillaryclinton.com
3. Ted Cruz doesn't like "New York values" but loves Matzo ball soup.
Ted Cruz had a problem with Donald Trump's representation of so-called "New York values" back in January. He said that New York values were too liberal for a Republican nominee, according to CNN. He said that Trump may "shift in his new rallies to playing 'New York New York,' because you know Donald comes from New York and he embodies New York values."
Well it didn't work out for Cruz in the end since Trump is the last candidate standing, but when Cruz was still in the race he had to eat his words a little bit. He went to New York to eat Matzo ball soup. New York Values 1: Ted Cruz 0.
4. Donald Trump loves Jesus, like a lot.
Donald Trump quoted a passage from Corinthians in an obvious effort to woo Evangelical Christian voters ahead of the Iowa Caucus. Well, he sort of quoted it.
"Two Corinthians Right? Two Corinthians 317, that's the whole ball game!"
The quote wasn't exact, but more of a paraphrase Trump-style. He really can negotiate anything.
5. Carly Fiorina loves the opposing team.
What Carly Fiorina lacks in campaign staying power, she makes up for in creative pandering. Fiorina tweeted ahead of the Iowa Caucus that she would be rooting against her own alma mater, Stanford University, in their Rose Bowl match against the Hawkeyes of, you guessed it, Iowa.
Stanford, unlike its famous almuna, would go on to a crushing victory.
6. Dr. Ben Carson thought he was in a rap crew for three minutes.
When Dr. Ben Carson was still in the presidential race, he realized that what his campaign really needed was some hot beats and a tight flow. For some reason he thought that he, a 64-year-old Republican presidential candidate, could provide those things. A radio ad by Carson's team featured him rapping these lyrics.
"Heal (vote, vote)/ Inspire (vote, vote) / Revive (vote, vote)/ Ben Carson 2016, vote and support Ben Carson, for our next president, it'd be awesome."
Truly awesome, it was not.
The campaign released the ad with designs on "reaching [young Black voters] on a level they appreciate and follow and see if we can attract their consciousness about the election," said campaign spokesman Doug Watts, according to ABC News.
7. Marco Rubio also loves Jesus, like so much.
Back in his days of presidential hope, Marco Rubio made a TV ad to let us all know that Jesus is the best and he's super Christian in all things. He said that we should accept the "free gift of salvation" that Jesus is giving out. It's sort of like Oprah and free cars. Some people didn't respond well.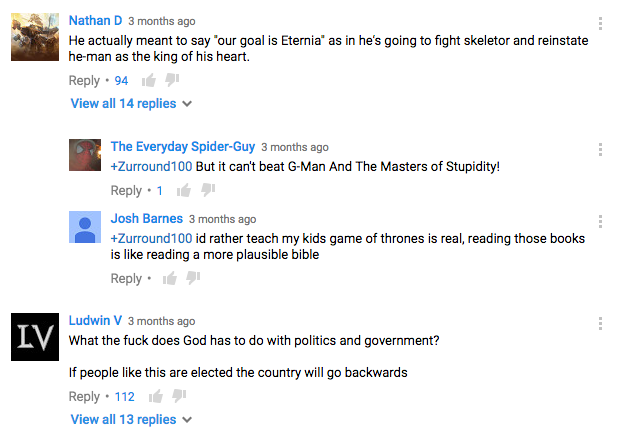 Youtube/Secular Talk - youtube.com
Honorable mentions:
Youtube/105.1BreakfastClub - youtube.com
Michelle Obama, Bernie Sanders, and Hillary Clinton have all had some moments that were a little questionable.
Michelle Obama, like Ben Carson, made a rap song to promote college education and it was slightly awkward. However she's probably young and cool enough to pull it off with some young people.
Bernie Sanders may not have been young or cool enough to hang out with Killer Mike, but the rapper undoubtedly is a big supporter.
Hillary Clinton caught a lot of grief for talking about hot sauce in her bag with the New York City hip hop radio show "The Breakfast Club" on Power 105, which some saw as a blatant attempt to reference Beyoncé's mention of the spicy stuff in her song "Formation."
However it turns out that Clinton has been an avid hot sauce fan for a long time.
Share your opinion
Do you think pandering is necessary in a political campaign?