These Men's Lower Halves Bust a Serious Gender Stereotype
May 10th 2016
By:
For many children, the idea of becoming a mermaid is often seen as a "female" fantasy. The popular 1989 Disney classic, "The Little Mermaid" bolstered this notion because the main character is a mermaid named Ariel, launching an entire franchise of Ariel costumes and merchandise geared toward girls.
As it turns out, you don't need to be female to become a mermaid when you grow up.
In recent months, several men have gained attention on social media for holding professional jobs as "mermen."
They perform at various events and in aquatic shows, and many of them have large fan bases on social media platforms such as Instagram.
Jack Laflin, whose professional name is Merman Jax, told LAist in 2015 that his competitive swimming background and love of the sea contributed to his interest in merman culture. He added that mermen also tend to start a conversation about sea folklore identities.
"I did see people start to buy these tails for fun, and I thought, 'Well that seems like a missed opportunity. Why not do business out of it?'" he told the publication. "It does spark a conversation. It's unique. Usually people think it's great. Kids and adults—everybody loves it."
While it's nice to have thousands of fans on social media and make a living in an interesting and healthy way, this doesn't mean that merman life is without challenges.
Earlier this year, Christian O'Brocki, also known as Merman Christian, told CNN in a video interview that working as a professional merman "isn't as easy" as being a mermaid.
"You see a mermaid, and everybody's like, 'Oh, how beautiful,'" he said before making an uncomfortable face to imitate how people react to mermen.
Tikva Naim Maksim Briggs, who goes by Maksim Merman the Yellowtailed SeaWitch, made similar comments about life as a merman in a new interview with Broadly:
"Although I've never experienced sexism in the mercommunity because we do not judge—we are more like family—there are some unhappy people out there who look at us mermen and say, 'That's not a merman. Merfolk are supposed to be women.'"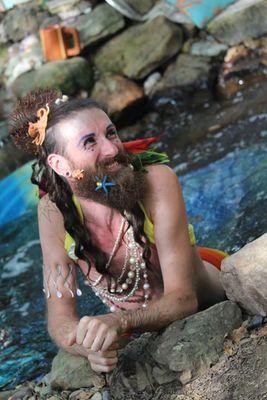 Maksim Merman the Yellowtailed SeaWitch Twitter - twitter.com
Regardless of this attitude, mermen continue doing what they love.
"Some of my biggest fans are young boys because they're so used to seeing mermaids almost all the time," O'Brocki told Broadly. "They get such big smiles on their faces, it's adorable."
O'Brocki told CNN that he hopes to show young boys that they can aspire to be mermen someday, too.
"Why should the girls get to have all the fun?" O'Brocki told CNN with a laugh. "For all the little merboys out there, I'm going to say if you want to wear a tail, you put that on, if you want to swim in the sea and be happy because it's fun, just go for it."
Several "merboys" have started popping up on social media as well.
Share your opinion
Have you ever encountered a "merman"?