What Happened When a Magazine for Little Girls Took a Stab at Body Shaming
May 11th 2016
By:
Everyone knows that female-centric magazines can get carried away with "bikini bod" cover stories when summer approaches. It seems like no one is safe from the message — not even kids.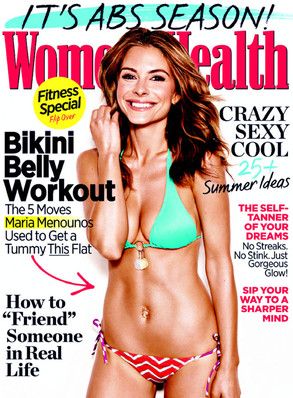 PINTEREST - pinterest.com
People have complained about the nature of "bikini body" cover articles for years, and now, grown women aren't the only ones exposed to them.
Discovery Girls, a magazine for girls ages eight to 12, is receiving criticism for publishing a piece on what swimsuits best fit your body type.
Writer Taffy Akner, a contributor for GQ and The New York Times Magazine, drew attention to the article in the tweet below:
"Hey @DiscoveryGirls, why not include diet tips/surgical options with this?" she wrote. "Your readers are 9, after all. Tick tock."
The piece itself tells girls who are "curvy on top" that "coverage is key." It also recommends choosing a swimsuit with side ties and cut outs to "draw the eyes down."
Many people shared the sentiment that the story can perpetuate a negative body image among young girls who are still developing.
Catherine Lee, the founder and publisher of Discovery Girls, then issued a statement on Facebook explaining that she understood why there was backlash to the story.
"We want to make sure that our girls know that any article that makes you feel bad about your body is not a good article, and should be questioned," Lee wrote. "It's still hard for me to believe that an article so contrary to our magazine's mission could have been published on our pages. I have been a loss for words for days. The article was supposed to be about finding cute, fun swimsuits that make girls feel confident, but instead it focused on girls' body image and had a negative impact. Nobody knows better than Discovery Girls how impressionable our girls are at this age and we are ALWAYS mindful of this. We've received hundreds of thousands of letters over the years from girls sharing their insecurities about their bodies."
Lee went on to thank the readers for bringing the story to her attention. For the most part, commenters were receptive to her post, but user Robyn Cohen questioned whether a publication for boys would have published a comparable article: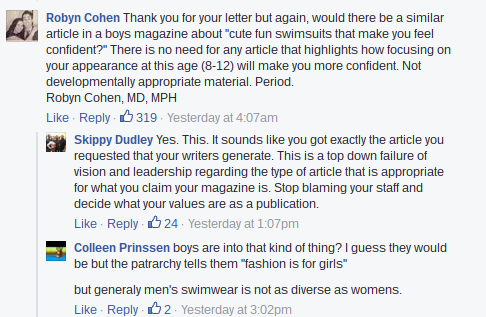 Facebook - facebook.com
Many are actively calling out body-shaming language in women's magazines.
In late 2015, Women's Health's magazine editor-in-chief Amy Keller Laird wrote in a blog post that the publication would never again use the phrases "bikini body" or "drop 2 sizes" on its covers. The magazine came to this decision after conducting a survey that revealed readers dislike the phrases "shrink," "diet," "drop 2 sizes," and "bikini body."
As part of the change, Laird famously wrote a "Dear John" letter to the phrase "bikini body." Time will tell whether kids magazines will eventually have to do the same thing.
Share your opinion
Do you witness a lot of body shaming in everyday life?