Pope Francis Takes a Big Step Backwards, Compares Trans People to Nuclear Weapons
Remember when I warned that we should be cautious about optimism over recent Catholic and Mormon moves to court the LGBTQ community? Less than a month after Pope Francis made international headlines for a reportedly affirmative audience with a transgender man, the pontiff has been caught in an about-face -- comparing transgender people to nuclear weapons and seemingly labeling gender transition a "new sin."
Speaking of gender theory in a book released in Italy in January, the head of the Catholic Church's comments have come to light for American press recently. Among the pope's statements in Pope Francis: This Economy Kills are a strong criticism of the the idea of gender identity and a defense of gender binarism: 
"Let's think of the nuclear arms, of the possibility to annihilate in a few instants a very high number of human beings. Let's think also of genetic manipulation, of the manipulation of life, or of the gender theory, that does not recognize the order of creation." 
He continues, stating that every historical period has "Herods," implying that understanding gender as a spectrum as well as transitioning genders both "destroy," "plot[ing] designs of death, that disfigure the face of man and woman, destroying creation."
Some fairly strong words coming from a man who gave the religiously-affiliated LGBTQ public and their allies mild cause for celebration in early 2015: Two historic events - one directly involving the pontiff - reverberated through the Roman Catholic and Mormon faiths in January, affecting some 1.3 billion people globally.
A Vatican first, Pope Francis reportedly met with transgender Spaniard Diego Neria Lejarraga and his fiancée in a private audience on Jan. 24 at the Vatican City papal residence. According to Spanish-language daily Hoy, Lejarraga contacted the pope by letter in 2014 writing that church officials in Plasencia, Spain, had "marginalized" him. A hometown parish priest, according to the letter, called Lejarraga "the devil's daughter" for his gender transition. Lejarraga wrote to Francis hoping that the pontiff, who many see as more progressive on LGBTQ issues, would be receptive.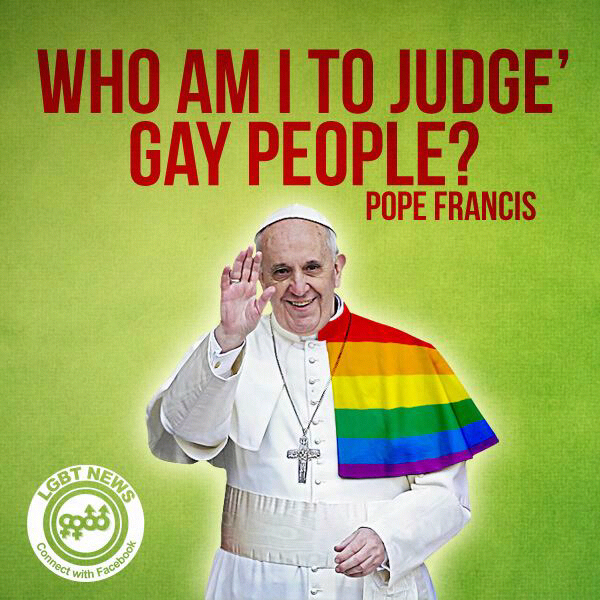 The pope's answer? Luckily, acceptance and a hug, rather than telling Lejarraga that he was destroying creation. 
As reported by Hoy, Francis initially called Lejarraga on the phone, telling the 48-year-old transman: "You are a son of God and the Church loves you and accepts you as you are." The pope then invited Lejarraga to the Vatican for a personal meeting at which Francis embraced him and told Lejarraga that there was "a place somewhere in the house of God for him."
Meanwhile, in the Mormon church.
Similarly, the Church of Jesus Christ of Latter-Day Saints (the Mormon church) announced some support in January for LGBTQ equality, suggesting a possible turning point for the organization.
"We must find ways to show respect for others whose beliefs, values, and behaviors differ from ours while never being forced to deny or abandon our own beliefs, values, and behaviors in the process," church elder Jeffrey R. Holland told the gathered news conference Jan. 27. He continued, calling for "fairness for all people," which the official LDS summary identifies as "reasonable safeguards for LGBT people" -- specifically in areas of housing, employment, and public transportation.
I guess the Mormon Church won't be funding anti-gay legislation like Calif.'s Prop. 8 again. (Remember when the LDS church and its members both openly and secretly funded Prop 8?)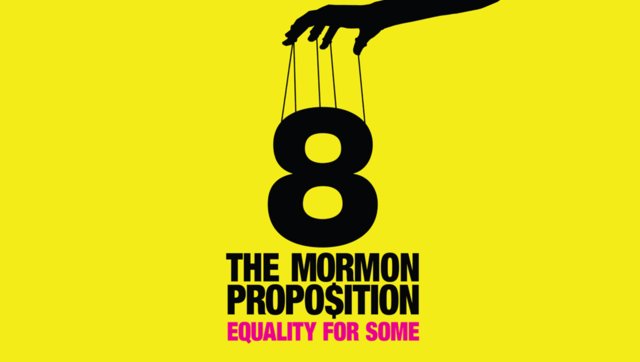 Or will they? If Mormon leaders follow Pope Francis' example, I wouldn't be surprised if they did. Let's hold the applause and breakdown why both of these steps were already going sideways rather than forward - and that was before the pontiff's book came to light.  
1. The Vatican still has yet to confirm that the meeting between Lejarraga and the pope ever took place.
Although widely reported, the church's silence speaks volumes. As New Ways Ministry's Francis DeBernardo told The Huffington Post, "The Vatican's reluctance to verify the meeting is another indication of why I don't think their attitude can yet be called 'acceptance.'" Also, Francis has not officially addressed the doctrine on gender transition set forth by his predecessor, which identified transition as a denial of God in which "human dignity also disappears." But I think we can safely assume that his interview on gender theory in Pope Francis: This Economy Kills gives us insight into any future doctrine that the pope may issue. 
2. Conservative Catholics continue to feel alienated by Francis and are unlikely to follow his lead, particularly when the change comes via unconfirmed actions.
Conservative Catholics, including high-ranking clergy like Cardinal Raymond Burke, have openly disagreed with Francis' pro-LGBT actions. (Burke compared the pope's leadership to "a ship without a rudder.") Catholic leadership and evangelical Protestants are also banding together in a high-profile alliance that has issued a manifesto against marriage equality. It reads "like a declaration of war" according to some and suggests "that believers who accept gay marriage are no longer fully Christian." Without clear instruction from the pope that changes church doctrine, reforms to the treatment of LGBT members are unlikely.
3. The Mormon Church wants "reasonable safeguards" for LGBTQ people, not equality.
LDS leadership specified at the news conference that they were "announcing no change in doctrine or Church teachings." If you listen closely, you'll hear the church use its purported support for LGBT equality -- so long as their own membership is not forced to act on it -- as a platform to express concern for "erosion of religious freedom." They also actively brought up donating and participating in elections, which answers the question about another Prop. 8 with a resounding 'yes.'
Why does this doublespeak matter from the Catholic and Mormon higher-ups?
Beyond the subtle narrative that LGBTQ equality legislation undermines religious freedom, which should concern younger voters as we head into the 2016 elections, this doublespeak also highlights the incredibly low bar that we set in religious spaces for LGBTQ acceptance. 
Pope Francis clearly speaks out of both sides of his mouth when talking about gay and transgender people depending on his audience. If a mere hug - and reported but still officially unconfirmed words of acceptance - can make waves globally from a religious leader, our expectations are not high enough.
I'm reminded of another celebrated but backhanded bit of welcome: Just this week, a group of gay and lesbian pilgrims from US-based New Ways Ministry was given VIP seating at Francis' weekly general audience in Vatican City. This historic occurrence was quietly praised in some corners, including by New Ways Ministry officials. However, the pilgrims were not listed by the group's name with other attendees, and they were not announced when a Vatican monsignor read out the list of pilgrims in attendance as is custom. (The Vatican official reportedly skipped the group altogether as did Pope Francis, and the generic note identified them as a "group of lay people accompanied by a Sister of Loretto.") 
Invisibility isn't equality. I want more than a seat at the room; I want a seat at the table and to be treated like everyone else that's present. I don't think that's too much to ask of world religious leaders, do you? 
Share your opinion
Do you think religious groups are doing enough to reach out to the LGBT community?