Here's Who Actually Kills the Most Cops
May 12th 2016
By:
Michael Brown, Walter Scott, Freddie Gray and Sandra Bland are all names that you probably recognize. The controversial deaths of these Black people by police bullets or at least in the custody of police, set off a firestorm of protests about police brutality and invigorated the Black Lives Matter movement.
But does protesting translate to the most tragic act of violence—murder—against police officers? Well no it doesn't. Writer Shaun King explains the difference in the New York Daily News.
"Contrary to popular belief, despising police brutality does not mean I despise police officers," he said.
However, law enforcement groups like Blue Lives Matter have accused Black activists of creating a climate that puts police in danger. The argument is that angry Black people will want to hurt police officers. There is currently a bill in the Louisiana Senate that would make certain kinds of violence against police officers a hate crime.
But so far in 2016, the vast majority of police officers killed are shot by white suspects.
There are 35 deceased police officers listed on the "Officer Down Memorial Page" so far this year, and 18 of those happened because of car accidents, drunk drivers, pursuit crashes, heart attacks, and one accidental shooting.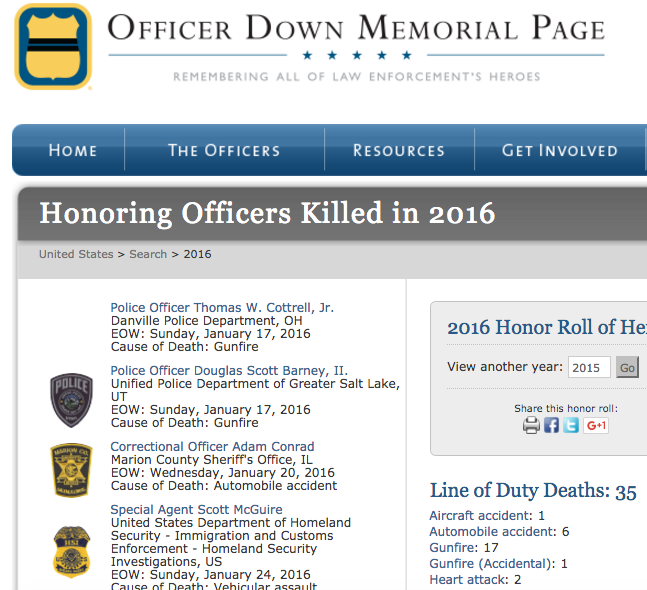 Officer Down Memorial Page - odmp.org
The rest were shooting deaths. Out of the remaining 17 men who allegedly shot and killed a police officer, only four were Black and one was Latino. That means that approximately 70.5 percent of the suspects who allegedly shot and killed a police officer this year were white. If you think of Black people when you hear the term "cop killer," you may want to rethink that stereotype.
Also, police officers die by murder at work more than most other American jobs, but they are not the most likely to die. The Washington Post's Wonk Blog made a list of the 20 deadliest jobs in the U.S. based on 2013 data.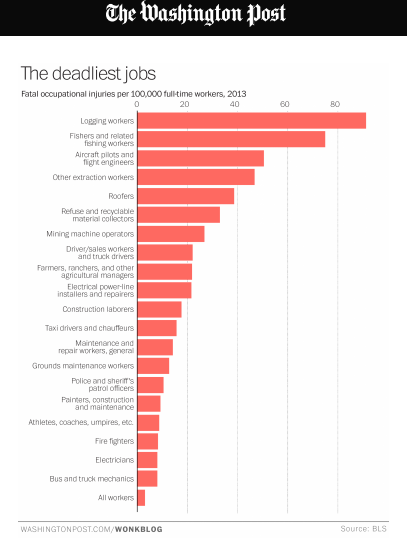 The Washington Post Wonk Blog - washingtonpost.com
Logging workers scored the title of the deadliest job. Roofers, recycling collectors, farmers, construction workers and taxi drivers were all ranked as more deadly jobs than working as a police officer.
Share your opinion
Do you think that the Black Lives Matter movement has increased physical aggression toward cops?