How Plastic Surgery Is Changing What It Means to Be Beautiful
May 24th 2016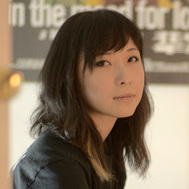 By:
Last year, a viral video from BuzzFeed broke down how women's ideal body types have taken on many shapes and sizes over a span of 3,000 years, from ancient Egypt to present-day. At its conclusion, the video suggested that "women have increasingly been turning to plastic surgery" to meet the difficult and unnatural demands of today's rigorous and unrealistic beauty ideals.
With the continued proliferation of celebrity influence, selfie culture, and the myth of the perfect image, it's no surprise that cosmetic surgery has been growing at an unprecedented rate. According to the American Society of Plastic Surgeons (ASPS), the number of overall procedures performed in the U.S. has increased by nearly 115 percent over the last 15 years, with both surgical procedures and non-surgical procedures on the uptick year after year.
Plastic surgery may be on the rise overall, but how have the different types of procedures changed over the years and what do these procedures — as well as other potentially dangerous beauty fads — say about society's ever-changing standards of beauty? Here are a few observations, based on popular surgery trends from the ASPS:
Faces are getting fuller.
Gone are the days of extreme facelifts and pulled-back skin. According to a press release from the American Academy of Facial Plastic and Reconstructive Surgery (AAFPRS), "patients are savvy and now understand that volume is key to a youthful face." Fat transfers or fat grafting both take existing fat cells from other parts of the body and inject them into the visage. Despite being fairly new, fat transfers to the face — which are used to plump up cheeks, fill in hollow areas, and reduce scarring — were already the 9th most popular surgical procedure in 2015, as reported by the American Society for Aesthetic Plastic Surgery.
Butts are getting bigger.
It's been called the "Kardashian effect," and it is indeed palpable: the ASPS found that from 2000 to 2015, butt procedures saw a whopping 252 percent increase. Silicone-based butt implants were the fastest-growing type of surgery in 2015, up nearly 36 percent from the previous year, while lifts and fat grafts were on a similarly atmospheric rise. The surgery is now so common that on an average day, a butt procedure occurs every half-hour.
Lips are getting larger.
Angelina Jolie set the trend for luscious lips and today, Kylie Jenner carries on the torch (but not without facing criticism for appropriate Black culture.) While lip implants are more popular now than ever before, the majority of patients looking to enhance their puckers are turning to non-surgical injections, like Botox and soft tissue fillers, for a pick-me-up. Botox procedures alone have increased 759 percent since 2000, accounting for nearly half of all minimally-invasive procedures in 2015, according to the ASPS.
Designer vaginas are now a thing.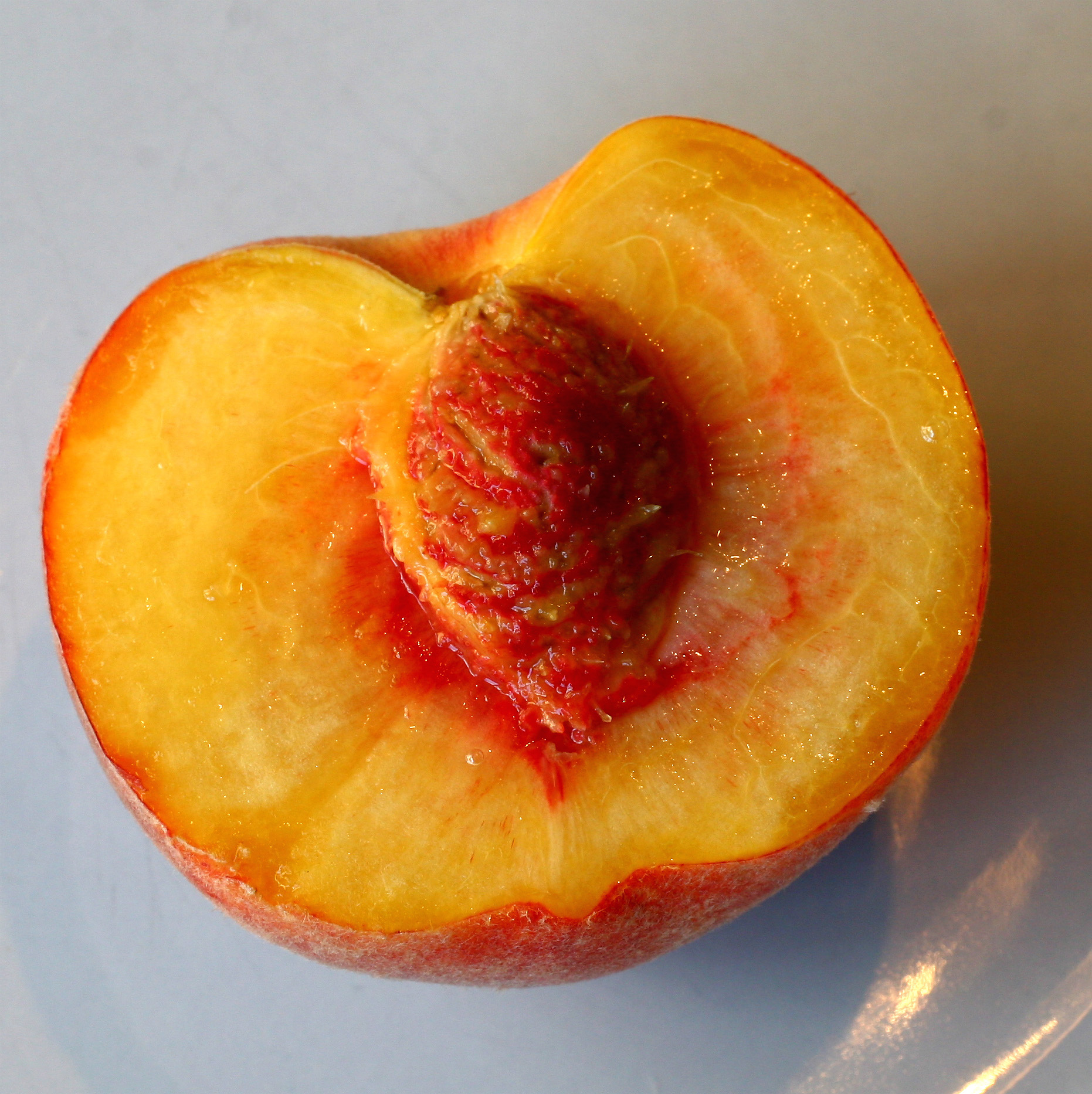 Liz West/Wikipedia - wikimedia.org
Even private parts aren't immune to scrutiny, as it turns out we're in the midst of a labiaplasty boom. The procedure — which involves trimming, shortening, or plumping up the labia — nearly doubled from 2013 to 2014, according to the ASPS. The increased popularity of labiaplasty among teenage girls, as ATTN: has previously reported, is even more alarming. In 2015, 400 girls under the age of 18 chose to undergo a labiaplasty, up 80 percent from 2014.
The thin ideal still prevails.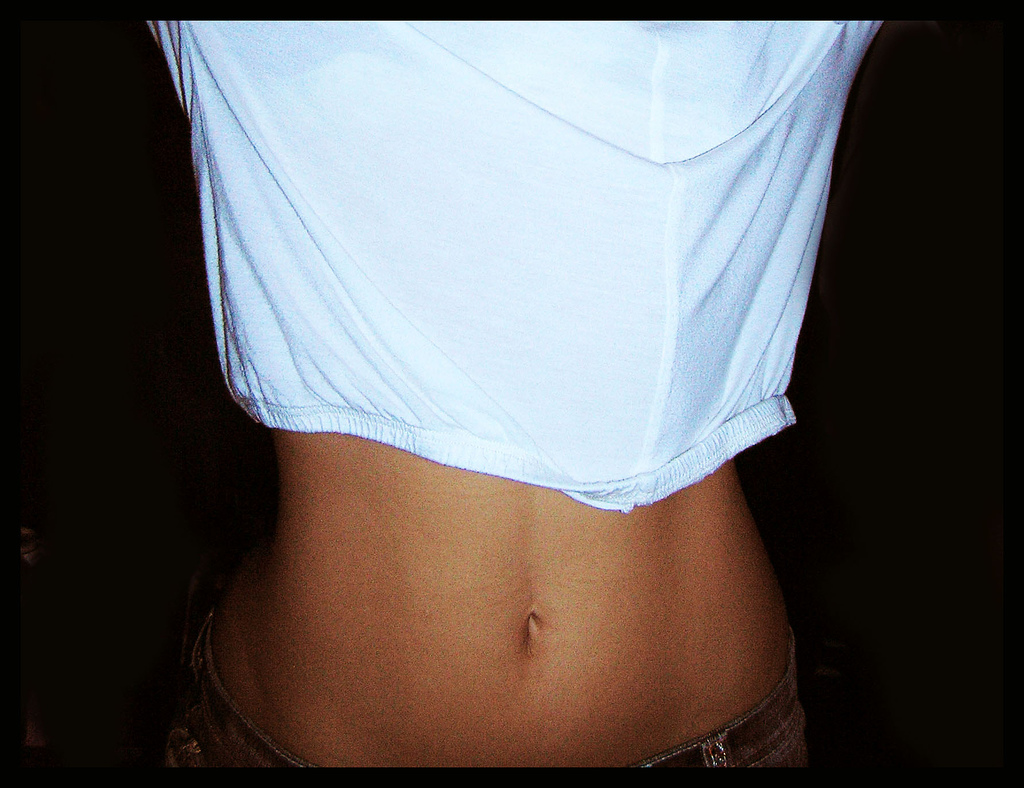 Daniel Sandoval/Wikipedia
Despite the rising popularity of curves, women are still expected to maintain disproportionately flat stomachs and slender, toned limbs. In 2015, liposuction prevailed as one of the most popular procedures in the country, and the ASPS found that surgeons were clocking in nearly 225,000 procedures, up 5 percent from 2014. Other eyebrow-raising procedures have also been popping up in recent years as possible shortcuts to svelteness: CoolSculpting, which freezes fat through cooling paddles, was once touted as the non-invasive alternative to liposuction, while Zerona, a fat-contouring laser treatment, has claimed to be very effective for "thigh gap therapy."
All this means that women are looking less like themselves.
Standards of beauty have become so highly granular and aestheticized that the average woman simply cannot live up to today's fantasy ideals through natural means. A recent Harpar's Bazaar article deemed today's current ideal as "cartoon-like" and "more unattainable than ever."
As a result, women look less like themselves and much more homogenized, to the point where it is now considered transgressive to be a "real women" in the media. A recent survey study by lingerie shop Bluebella.com pieced together men and women's idea of the perfect body by stitching together their favorite celebrity body parts. The resulting images presented a glamorized ideal, more doll-like than human.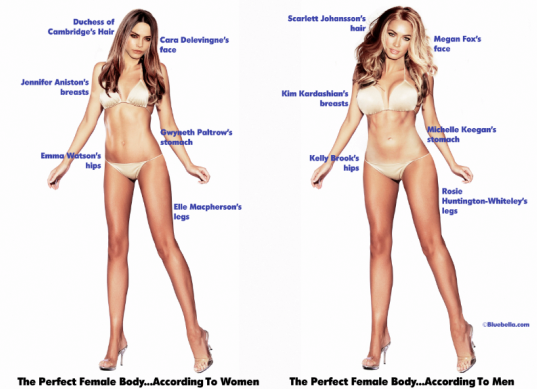 Bluebella.com - time.com
But a movement toward a more authentic, inclusive representation is well underway. Jennifer Lawrence, Kate Winslet, Amy Schumer, and a collective of other influential women have openly rallied for a realistic, body-positive vision of beauty, while campaigns like Dove's Real Beauty ads, as well as Barbie's new line of curvy dolls, continue to offer a broader picture of women's bodies.
Share your opinion
Do you think the availability of plastic surgery pushes people to strive for a particular beauty ideal?