This Police Officer Received a Powerful Letter About Autism From a Nonspeaking Teen
May 19th 2016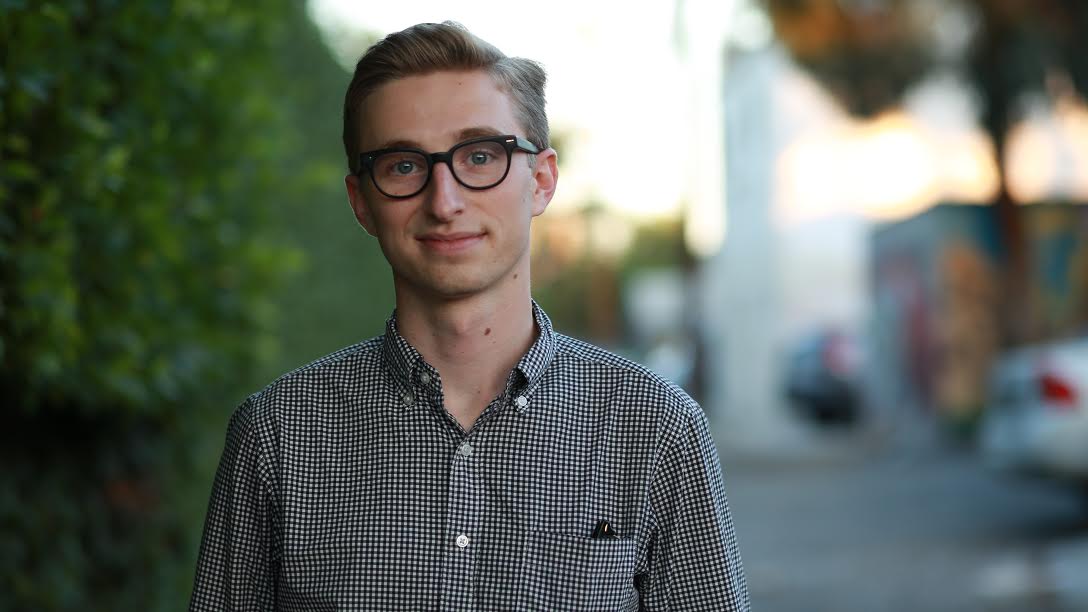 By:
Gordy Baylinson, a 16 year old with severe autism, spent most his life unable to communicate. But after his therapist taught him to type using a new communication technique, Gordy wrote a letter that blew everybody away.
His parents didn't think it was possible. For more than 14 years, they assumed he lacked the means to comprehend what they were saying, let alone independently communicate, The Washington Post reports.
But after a year of training, Gordy was able to use a QWERTY keyboard and revealed his hidden talent and a passion for mental health awareness, specifically concerning law enforcement.
"My name is Gordy, and I am a teenager with nonspeaking autism," Gordy wrote in a letter that he addressed to a police officer. "I prefer this term rather than low-functioning, because if I am typing you this letter, which I am, I am clearly functioning."
"I felt very strongly about writing you today, to give a little extra insight on the disconnected links that were supposed to make my brain and body work together in harmony," Gordy continued.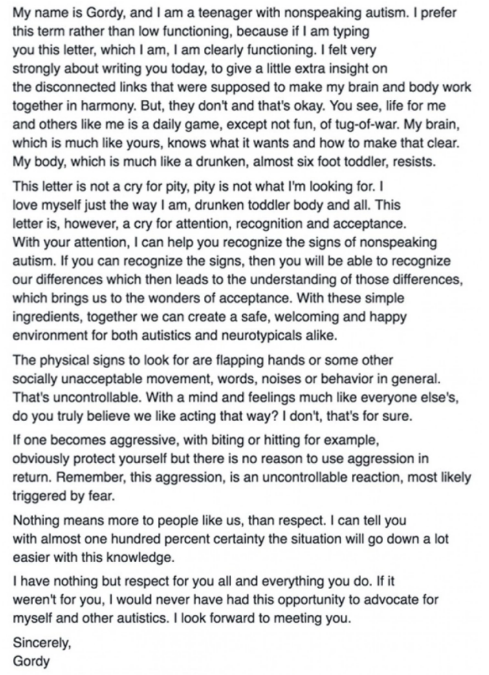 The Washington Post - montgomerycountymd.gov
The rest of the letter describes the unique challenges that people with autism face and misunderstandings that people have about the mental health condition. Gordy also advises the police officer, to whom the letter is addressed, on how to appropriately interact with people with autism.
Here's what Gordy says law enforcement officials need to understand:
"If [a person with autism] becomes aggressive, with biting or hitting for example, obviously protect yourself but there is no need to use aggression in return. Remember, this aggression, is an uncontrollable reaction, most likely triggered by fear. Nothing means more to people like us, than respect. I can tell you with almost one hundred percent certainty the situation will go down a lot easier with this knowledge."
Gordy's letter eventually reached Montgomery County Police Officer Laurie Reyes in Maryland, who launched the department's autism outreach program, The Washington Post reports. Reyes' program represents a new development in law enforcement that is gaining traction around the U.S., offering training and educational resources to officers about how to effectively handle situations that involve people with autism and other mental health conditions, CNN reports.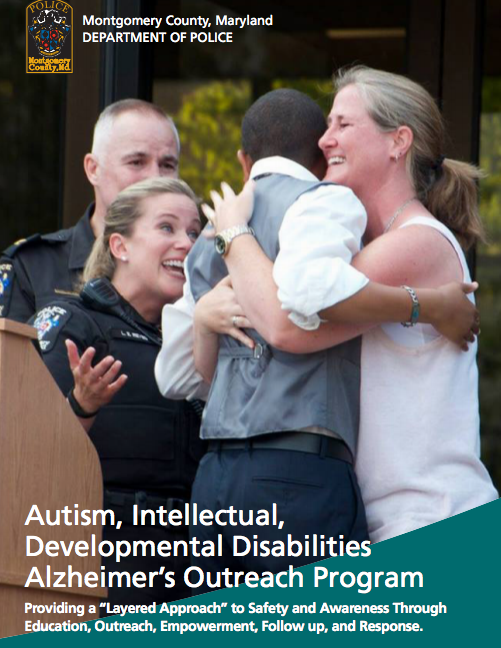 Montgomery Country Police Department - montgomerycountymd.gov
"I always share with the officers I teach to 'never underestimate' a person with Autism," Reyes wrote back to Gordy. "I also teach them to not associate non-verbal with a lack of intelligence. I continuously stress those two thoughts to my officers."
As Gordy wrote to the Washington Post, raising awareness about autism in police departments is important because officers who lack such training run the risk of escalating cases where autistic individuals are involved — sometimes with tragic consequences. Asked why he felt so passionately about this particular issue, Gordy wrote, "I've heard too many tragic stories of the mistreatment and mishandling of autistics due to lack of knowledge.
"It breaks my heart because I know no one is truly at fault," he added.
While exact statistics are hard to come by, a Google search with the keywords "police" "autism" "incident" reveal stories of police encounters with citizens with autism — some are news stories that detail how police in the U.S. have used excessive force, opened fire on, or otherwise inappropriately handled situations that involved people with autism. In some of the cases revealed by the Google search, these individuals exhibited violent tendencies; in others, they simply failed to cooperate and officers misjudged their behavior.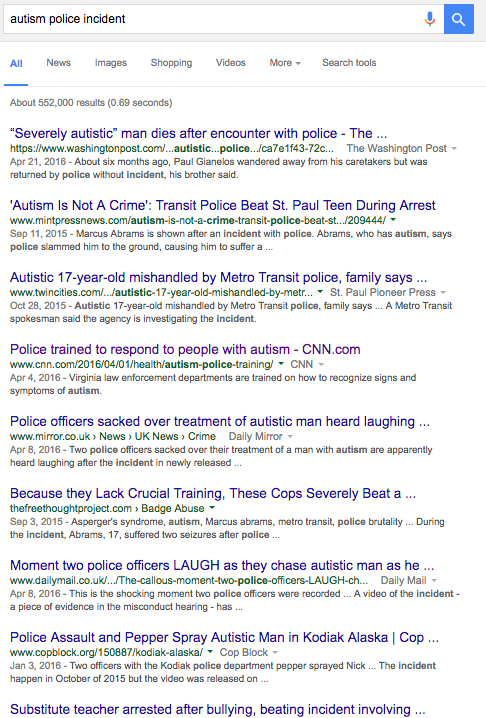 Google - google.com
Autism Speaks, an advocacy organization, outlines a series of facts about autism for law enforcement officials on its website. The first piece of advice reads: "Interacting with a child or adult who has an autism spectrum disorder will challenge your experience and training."
Other recommendations include implementing programs such as the one Reyes founded, developing an ability to identify different forms of mental health conditions, and creating autism response workshops so that officers can learn about "the risks associated with autism" and develop appropriate responses to those risk.
[h/t The Washington Post]
Share your opinion
Do you know someone with autism?