This Is What Happened When Former NBA Player Etan Thomas Was Denied a Seat on the Train
Former Washington Wizards player Etan Thomas was denied an empty seat on a train that was later given to a white man. So he took to Facebook Friday with his story, and the post went viral: It's been shared more than 29,000 times.
The NBA baller reported that he was looking for a seat on a full train when he asked a woman if the empty seat next to her was available. She responded that someone was already sitting there. What happens next, according to Thomas, is why he took her photo and posted it to his social media accounts.
Per Thomas:
"Now, less than 2 mins later a man (who happens to be white) asks if he can sit there and she says why sure let me move my stuff. So I have to say something so I ask ummmmm did you just not want ME to sit next to you ? Were you scared ? Not comfortable with a Black Man sitting next to you ?"
The woman reportedly told the retired Wizards player not to "pull the race card stuff" with her because she dated a black man in college.
His response? To take this photo post it on Facebook.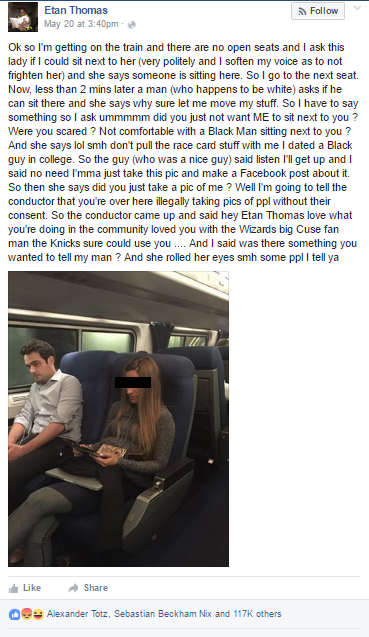 Facebook - facebook.com
After he took the photo, the anonymous woman threatened to tell the conductor — but it turned out that he was a big fan of the athlete, so no action was taken, Thomas wrote.
Thomas also took to Twitter about the incident, where his tweet has been shared by almost 700 people so far: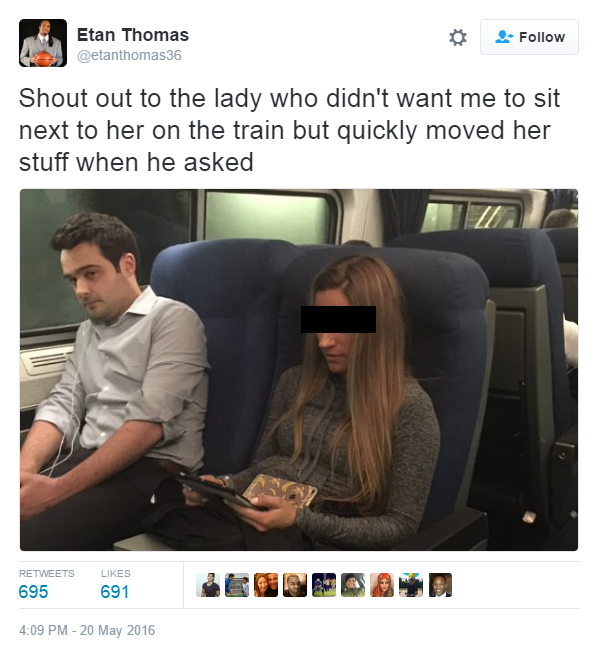 Twitter - twitter.com
The internet has come to Thomas' defense, too.
Thomas' story is still unconfirmed, but fans have expressed support on Facebook and on Twitter, commending the former athlete for the way he handled his fellow passenger's casual racism:

Facebook - facebook.com
This isn't the first time that Thomas has gone online to share his opinions. He wrote in The Root in 2013 to explain why he felt R. Kelly's 2013 "Black Panties" album cover was inappropriate.
Share your opinion
Have you ever been denied a seat because of who you are?