These Interracial Couples Reveal the Taboos They Had to Overcome When They Started Dating
June 10th 2016
By:
Interracial couples are a hot topic these days, but it's all owed to one couple today: The Lovings, the interracial couple behind the hugely important 1967 U.S. Supreme Court case Loving vs. Virginia.
In 1958, Richard Loving, a white man, and his wife Mildred Loving, a Black woman, were arrested. They sued after the state of Virginia sentenced them to a year in prison for violating the state's laws against interracial marriage.
"I think marrying who you want is a right no man should have anything to do with," Mildred Loving told ABC News nearly 50 years ago. "It's a God-given right."
I bet none of your Tinder dates have turned into civil rights case law for the entire country, but keep swiping.
If you're a young person, you probably don't find interracial dating or marriage to be very out of the ordinary. The number of new marriages in the U.S. that are interracial are rising and in surveys, the overwhelming majority of Millennials are accepting of interracial marriage, according to Pew Research Center.
Because of the Lovings, interracial marriages are possible. Today, they're on the rise.
In 2013, 12 percent of newlyweds married someone of a different race, up from less than 1 percent in 1970, according to the Pew Research Center.
However, if you've been in an interracial relationship, you know that awkward situations can come up.
People have a lot of preconceptions and opinions on interracial dating and that means that sometimes things get weird.
ATTN: talked to four interracial couples from the Millennial generation to see what their relationship is really like and hear about some of the more awkward moments they have encountered. Three of the couples are married and the first couple is not married but they're in a serious relationship. Get off their back about it.
Shannon Dempsey and Dave Chapleau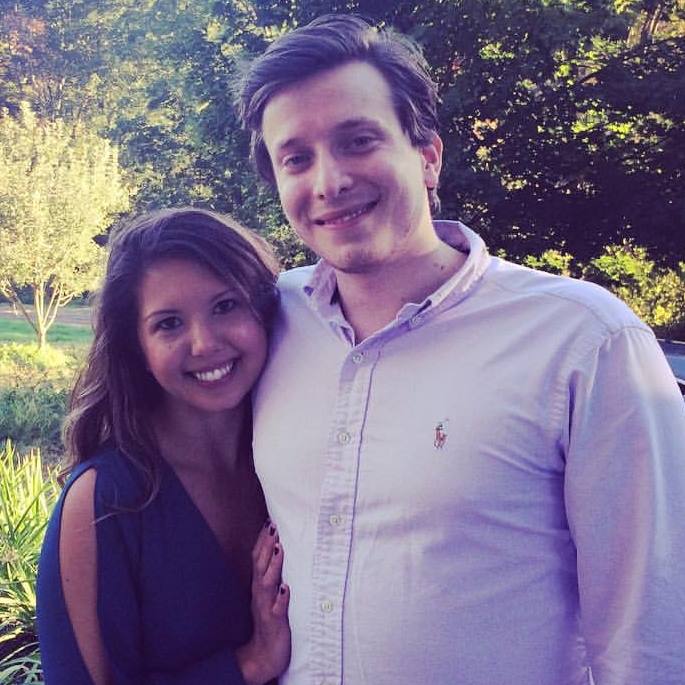 Facebook/Shannon Dempsey - facebook.com
Shannon Dempsey, 29, and Dave Chapleau, 26, both live in Boston, where they met at work. Dempsey is half Thai and half white, and Chapleau is Jewish.
Chapleau was interested right away, but he didn't approach Dempsey until she quit. "We were working in the same office so I did not approach her until I found out she had given her notice," he said. However, it seems that Dempsey may have seen him coming. "I knew he really liked me and he was cute," she said.
Dempsey knew that Chapleau was open-minded about race because he had mentioned dating another woman of color in the past, and she knew he had liberal politics. The first time Chapleau met Dempsey's family in Virginia, he was a little surprised at the number of Thai idols and religious icons in the house, but the awkward moments didn't come from interacting with the Thai part of Dempsey's family.
"Interestingly there were more awkward moments with the white side of her family," Chapleau said. "They are very Christian and I am Jewish so they were surprised and had a lot of questions about my Judiasm."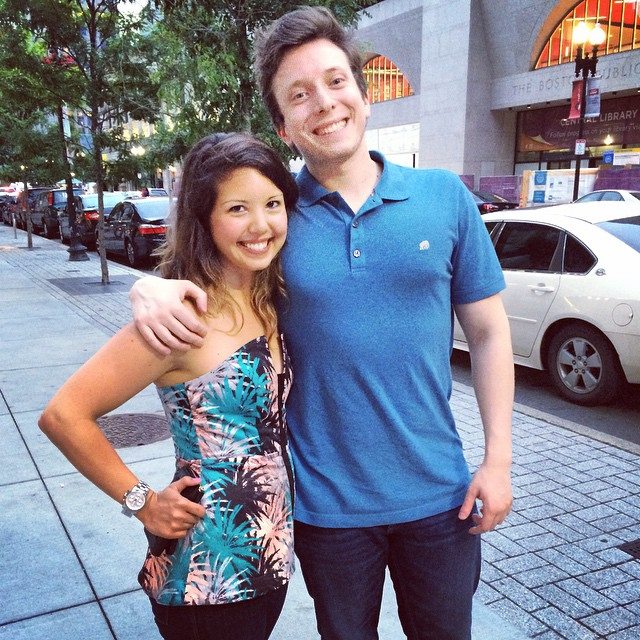 Facebook/Shannon Dempsey - facebook.com
Dempsey said things got a little strange because of her family's background. "My family on my dad's side are all Caucasian, Republican, and extremely religious," she said. To Dempsey's family, a Jewish person was someone unusual.
"They don't meet a lot of people not like them, and while they don't come off as trying to be offensive, they weren't sure what to make of Dave being Jewish," said Dempsey. "Even when asking him about his religion, it came across as condescending and offensive."
However Dempsey and Chapleau agreed that being an interracial couple in Boston has been pretty tame and they're not the only ones around.
"There are a lot of interracial couples," Dempsey said. "Since becoming half of one, I realized just how many more are out there."
"Being an interracial couple in Boston is pretty easy to be honest," Chapleau said. "Most people don't even acknowledge it anymore than an observation."
Ursula Lauriston and Kiel Russell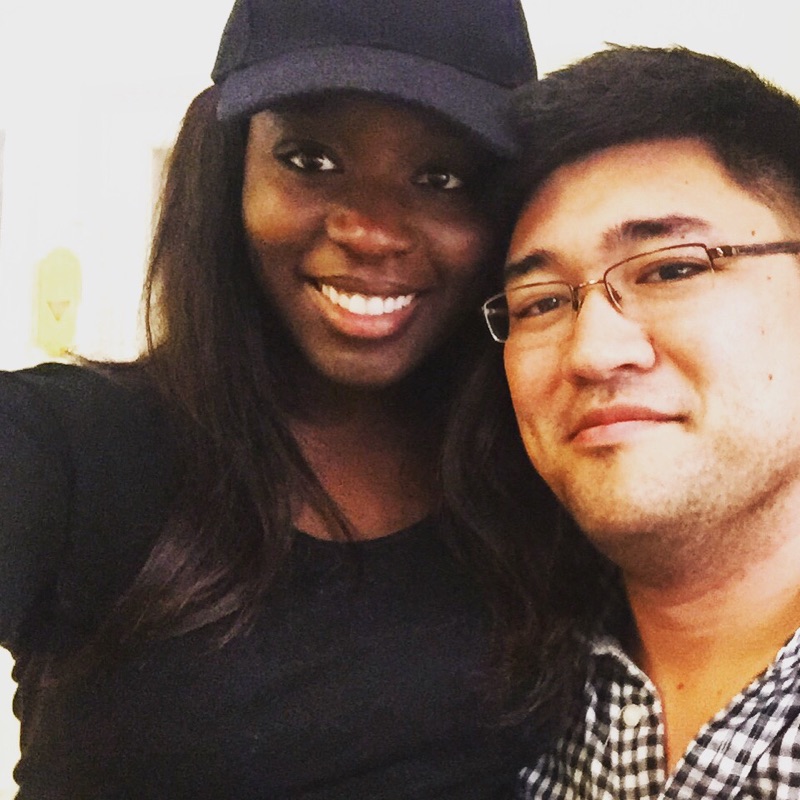 Ursula Lauriston
Ursula Lauriston and Kiel Russell have been married for a year and live in Washington, D.C. Lauriston is 29 years old and Haitian-American. Russell, 33, is half white and half Asian. They've been married for nearly a year.
Russell was interested in Lauriston right away, but at first it wasn't mutual. Lauriston gave him a hard time about it, while laughing loudly.
"I'm going to just say, that when I met Kiel on our first date that he was so nervous I honestly didn't think that I was going to see him again," she said.
Russell knew he wanted to see Lauriston again even if she wasn't on the same page initially. "I knew that we complimented eah other well when we went on our first date," he said. "Even though I may have been a tiny bit nervous and of course I was because she's beautiful."
The turning point came for Lauriston when he called her after the date.
"When I got off the Metro and I was almost at my apartment he called me and he was such a gentleman," she said. "He spoke to me like a man. When you're dating in cities like New York and Washington, D.C. you meet so many boys."
Ursula Lauriston
Lauriston said that any racially awkward moments happened because she was over-thinking it. Initially she was worried about Russell integrating with her big Haitian family.
"I knew that he would be more involved in my family life," she said. However there was nothing to worry about. "I found out very early on that there really wasn't much difference in how both of us thought, " said Russell.
Both Lauriston and Russell value family time so the awkward moments are mild.
"There are always going to be those moments," said Lauriston. "It's only because I assume something."
However being an interracial couple has not always been easy for them. Sometimes they get harassed on the street. "We were walking down the street and some random guy was like, 'that's gross,'" said Lauriston. "Kiel grabbed my hand and held it up like we just ran a marathon or climbed the top of a mountain."
Ana and Jim Foley
Savannah Haynes-Dream Big Photography - facebook.com
Ana and Jim Foley and married with a son Noah. Ana is 29 years old and Jim is 28. Ana is a Black American and Jim is Jewish.
They met in college in Boston and initially Ana was interested in him by default. "The honest answer is that he happened to be a straight male at our arts and communication college," she said. "I felt like I had come across something rare. He loved sports and [the r&b group] 112. He was like a unicorn."
However, she eventually fell in love with his strength and ambitious nature.
"Once we started hanging out I was drawn to his quiet confidence and his vision," she said. "I had never met anyone who was as goal-oriented as I was."
Jim Foley said that he just liked being around Ana. "Ana and I had great chemistry from the time I met her," he said. "She was easy to talk to and fun to hang out with."
Jim said that visiting Ana's family in Georgia would sometimes result in strange looks.
"Her hometown was fine, but nearby Atlanta was interesting to experience," Jim said. "There were many long looks from others in the city."
Their wedding brought up some awkward moments for Ana and they mostly revolved around her hair.
"For the wedding I decided to wear a weave instead of going natural," she said. "Unfortunately, this perplexed most his family, and as people hugged me a few of them mentioned, 'wow, I didn't know your hair could grow so fast.'"
They now have a baby Noah (who may be the cutest baby this author has ever seen), which brought up some concerns for Ana's mother. She was afraid that her grandson would look white.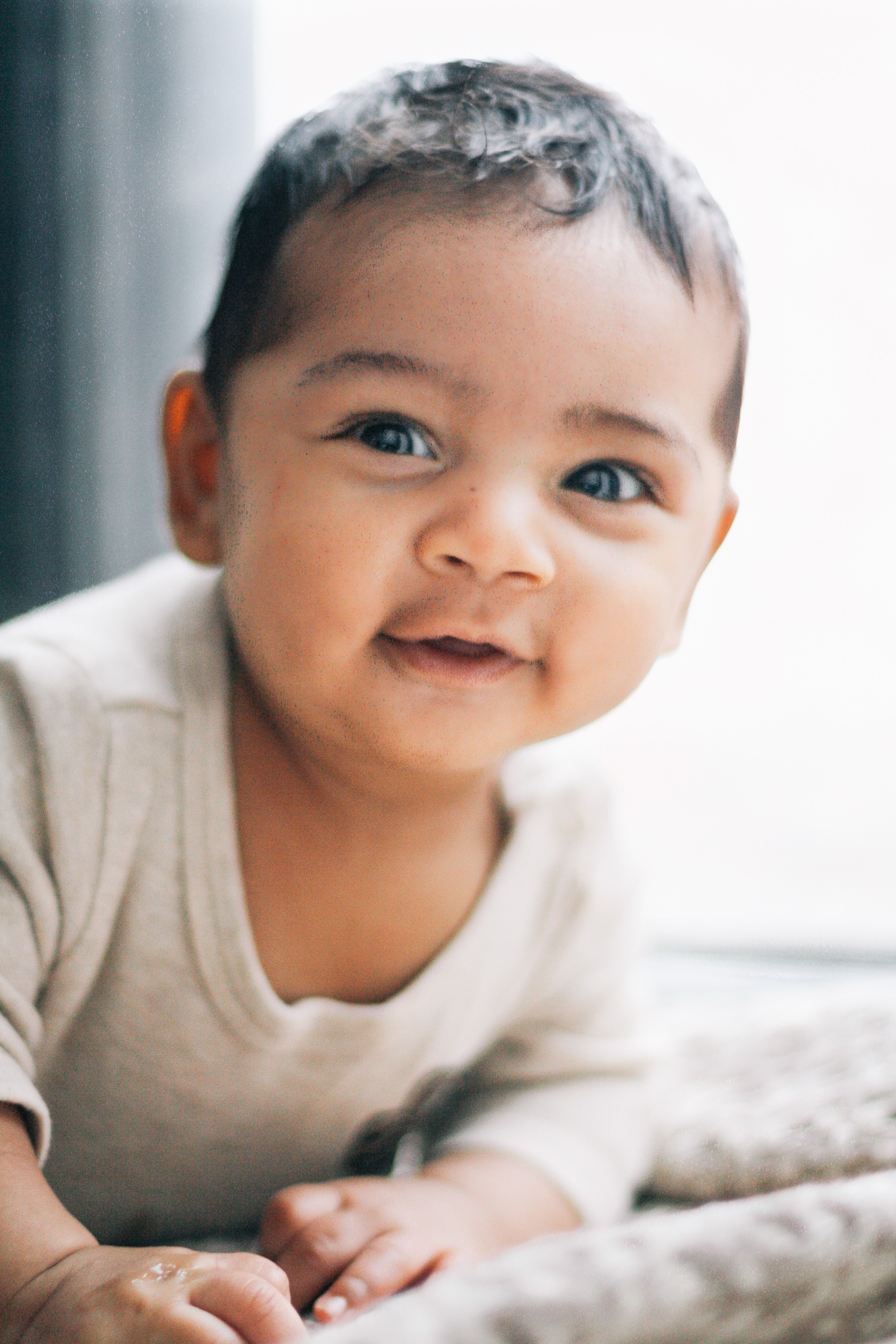 Kristen Humbert - bricktheblog.com
"Throughout my pregnancy my mother was worried that the baby would be born without any melanin," she said. "We both have Irish ancestry in our backgrounds. Her favorite phrase was 'I'll buy him some self-tanner.'" However, when Noah was born Ana's mother was relieved.
"Moments after Noah was born Jim sent out a picture," she said. "My mother's response was, 'thank God that boy has got some color.'"
Ana explained that her mother is bi-racial like baby Noah and her skin is very light.
"Her whole life she has had to explain that she is African-American and people wouldn't believe her," said Ana. "Especially in light of the fact that her brother had blond hair and blue eyes."
She didn't want her grandson to go through the same struggles that she's endured her whole life.
"If he didn't look like me I think she was worried about the looks or questions we would face," said Ana. "It was less of a fear and more of a wish that encountering prejudice would be a little bit easier for him."
Ana said that a different assumption about Noah annoys her. During her pregnancy people told her how cute her baby would be because of his interracial parents. She's grown tired of people tying Noah's good looks to his bi-racial background.
"It made me feel like being partly white somehow made him more attractive. That his attractiveness was rooted to his hair type or skin tone. He's a beautiful baby because he's our baby. Beautiful because he always wakes up with a smile, beautiful because he laughs every time I sneeze, and because he's utterly obsessed with puppies. Those things have nothing to do with his racial identity."
Jeanette and Shawn Kamieneski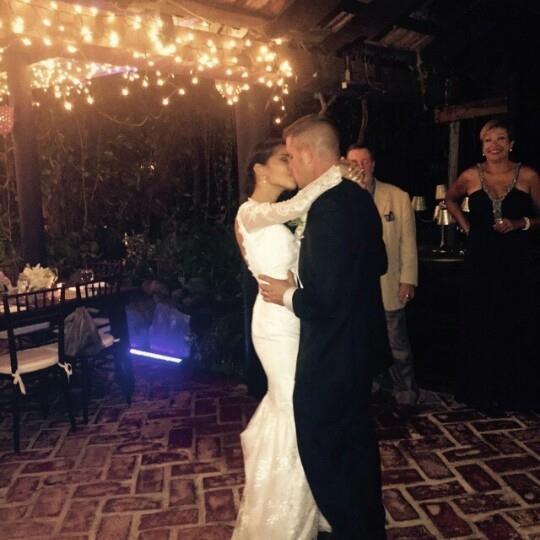 Facebook/Jeanette Sanchez Castro Kamieneski - facebook.com
Jeanette Kamieneski, 27, and Shawn Kamieneski, 34, got married about a year ago in Puerto Rico, but they met on Jeanette's birthday a few years ago when she was in college. Jeanette is Puerto Rican and Shawn is white.
Shawn said that initially he was hypnotized by Jeanette. "Well to be honest when I met Jeanette we were in a club and I couldn't take my eyes off of her," he said. "She was and is extremely beautiful but most of what kept me interested is the fact she was intent on having an excellent time and was keeping all of her friends involved."
Jeanette said that she wanted to have a serious relationship with Shawn because he had great qualities. "He was very romantic, attentive, caring, mature, funny, and driven," she said.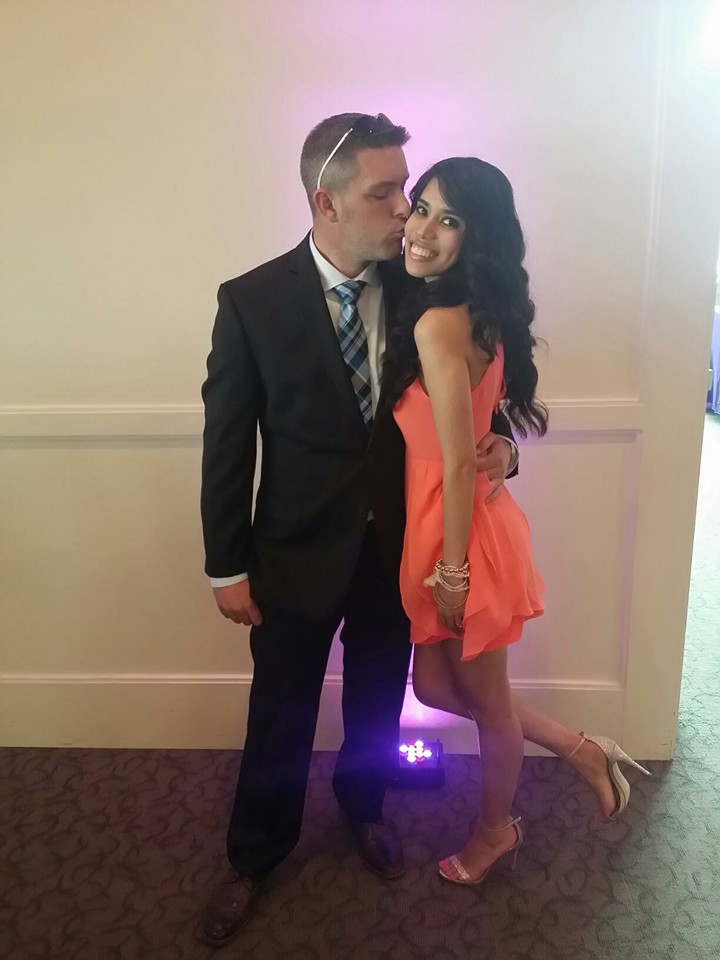 Facebook/ Jeanette Sanchez Castro Kamieneski - facebook.com
However before she made the decision to date Shawn seriously, there were some bumps in the road that centered around politics.
"A few weeks into meeting each other, we were on the phone and he mentioned he was a Republican." she said. "I almost hung up on him. I decided to hear him out and asked him about the issues that mattered to me the most." After Jeanette grilled Shawn on his political positions on abortion, gay rights, and immigration she felt better. "He answered them all right," she said. "I told him he wasn't a real Republican and we laughed."
Shawn said those conversations have changed his thought process. "Politically we are focused on different areas of the parties and the main thing I've gained from her is what others cultures are practically paying attention to," he said. "Her added perspective has added human rights value to my decisions in political choices."
Jeanette had dated white men before but she did have some concerns about dating Shawn seriously. "It did bother me that I would have to translate [Spanish] with my family and that I would have to explain why some things were racially insensitive, " she said. "But Shawn is really easy going, gets along with everyone, and is pretty progressive."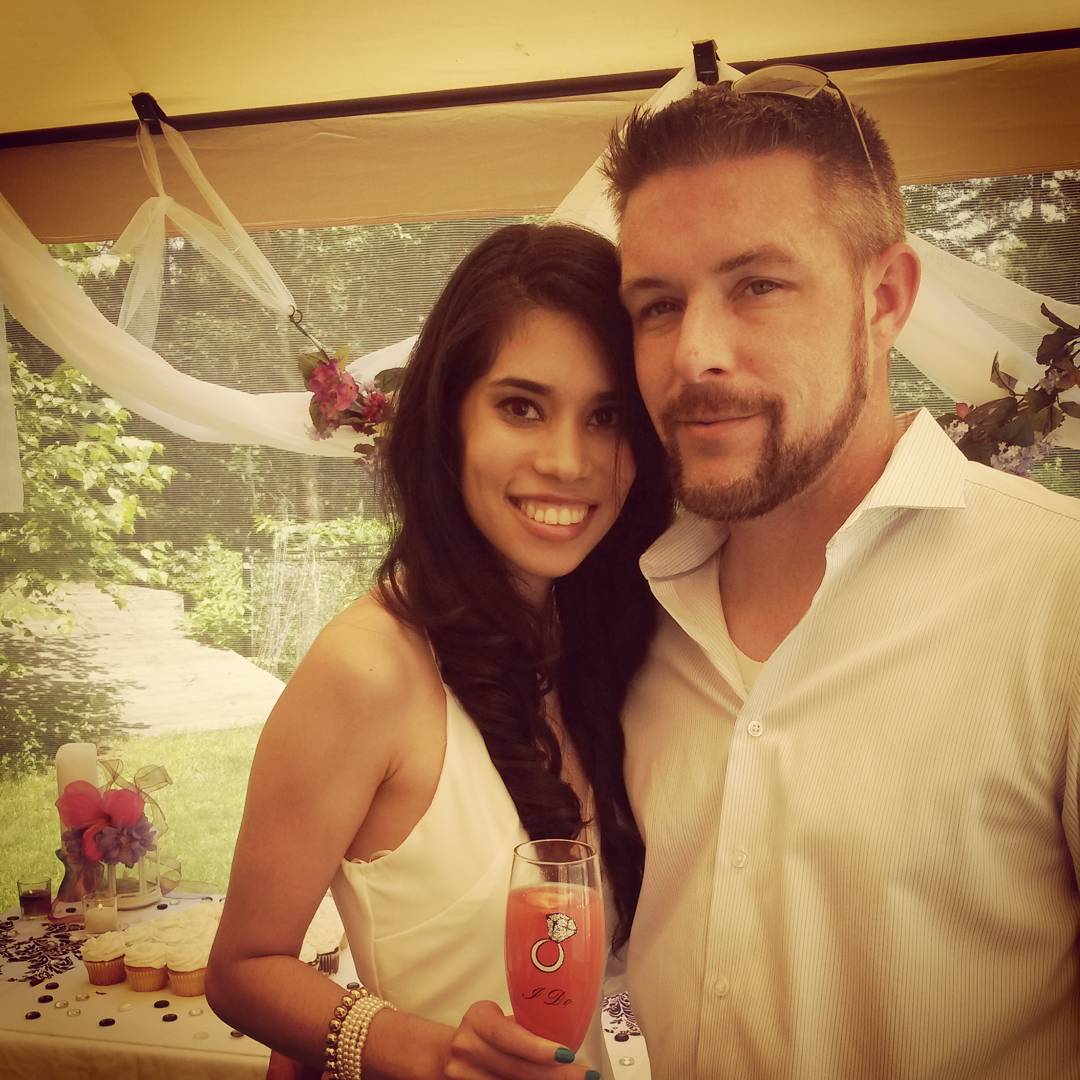 Facebook/Jeanette Sanchez Castro Kamieneski - facebook.com
Jeanette said that her family does try to accommodate the fact that Shawn doesn't understand Spanish, which is the main language for her family.
"Every once in a while someone will yell out, 'En Ingles!' to remind the others to speak in English, but it's not always possible since not everyone knows English," she said.
Shawn, who is from suburban New Hampshire, said that when he started visiting Jeanette in the inner city of Boston there were some stark economic differences he didn't expect. "I hadn't really seen that part of Boston and there were more people who were struggling than I had assumed," he said. "What got to me most is it was obvious and available for the eye to see."
When Jeanette visited Shawn's parents in New Hampshire, she hilariously made the situation awkward with Shawn's father. "Latinos tend to hug and kiss when we greet and say goodbye to family and friends," she said. "The first time I did that with Shawn's dad his face looked super uncomfortable. Now I just wave and say hello."
Share your opinion
Have you ever dated someone of a different race than you?