People Claim This Popular Diamond Store Scammed Them
May 27th 2016
By:
Some brides and grooms are accusing Kay Jewelers of stealing the diamonds right out of their rings.
People who took their diamond rings to Kay Jewelers for cleaning are using social media to accuse the company of swapping their diamonds with lesser quality diamonds or cheaper stones that aren't diamonds at all.
Heidi Stier-Rivera said in a post on the Kay Jeweler's Facebook page that Kay's "stole" her diamond. She said that the jeweler switched her diamond with a lesser quality diamond when she took it in to have it remounted. She said that she originally bought an SI1 diamond, which on the scale of diamond clarity means that the diamond has "small inclusions," or small imperfections, according to The Diamond Clarity Pro.
Stier-Rivera said in her post that Kay's told her that the diamond always had the imperfections.
However, she says she asked other jewelers to authenticate the quality when her husband bought her the ring. Kay's wouldn't change the stone, and now Stier-Rivera doesn't enjoy wearing the ring anymore.
"Very sad, and I don't even wear it anymore because it's not the diamond my husband gave me and I can't bear to look at the cloudy, cracked inclusions and have the constant reminder that Kay's stole my diamond."
Lina Mohr also said in a Facebook post that Kay's swapped her diamond after she had the ring repaired five years ago.
She noticed something was different after she got the ring back, so she took it to a different jewelry store. The other company told her the stone was different, but Kay's didn't believe her.
"Kay Jeweler said I was wrong even after I took it into another jewelry store, with the diamond paperwork, and was told by them there is NO way the diamond in my band is the same one Bob bought."
Another woman said on Facebook that Kay Jewelers tried to swap her mother's anniversary ring with a completely different ring. Cynthia Ellison said in a Facebook post on the Kay Jewelers page that the company lost her mother's 30th anniversary ring and then tried to give her another one as if nothing happened.
Ellison said that when Kay's realized what happened they only offered a $100 gift card and a "comparable" ring.
"Once they looked and realized that it wasn't [the same ring], they said "sorry" and then attempted to see what happened when they sent it out. They called her back and said that 'they accidentally gave it [to] another woman who is refusing to return the ring'...if that even happened."
A Facebook group called Boycott Kay Jewelers was created in 2014, but it has plenty of entries this week, piling onto the ring swap controversy.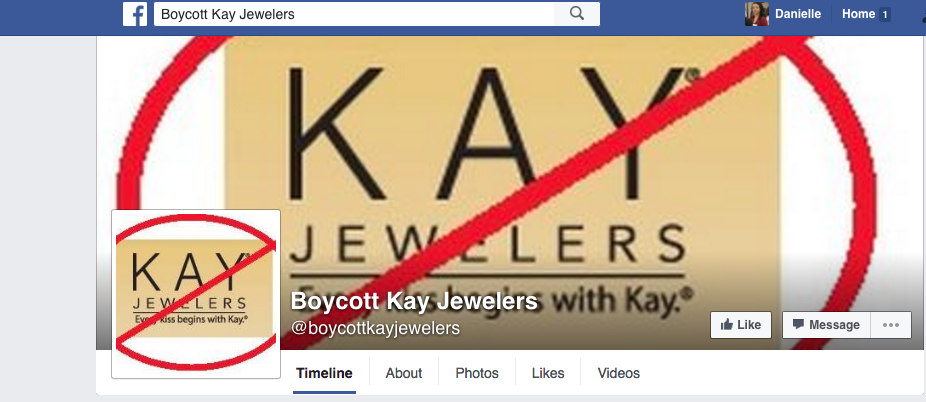 Facebook/Boycott Kay Jewelers - facebook.com
One post by the group administrator is attributed to Heather Jo Thompson. Thompson said she thinks Kay Jewelers sold her a "fake" ring.
"I can't prove this, but we think we were sold a ring with a fake diamond in it. After only 4 months, the "diamond" turned orange. We were told it was from the well water they replaced the diamond. Its been almost 3 years since it was replaced and it hasn't turned orange since."
Other posts allege bad quality jewelry and bad customer service.
A representative from Kay Jewelers said in an email statement to ATTN: that the company is reviewing the accusations.
"At Kay Jewelers, we take customer concerns very seriously and view even one issue as unacceptable. We are actively reviewing the issues noted in this piece, as we do all concerns brought to our attention. As part of our commitment to customer care and continuous improvement, we are also evaluating our processes to determine if there are any opportunities to further strengthen our practices. We understand that every piece of jewelry is much more than an accessory - that it is often a reflection of a deeply personal and meaningful moment. We also take great pride in the trust customers place in us in caring for their jewelry."
There's an interesting history behind diamond rings in America.
ATTN: has previously reported on the way the jewelry industry made engagement rings a cultural custom, through market manipulation and advertisements from De Beers Mining Company. De Beers only released a small amount of diamonds at a time so that their value would go up and they would appear rare. The company also launched expensive ad campaigns to make diamonds a symbol of marriage in the U.S.
Share your opinion
Have you bought an engagement ring from a large national chain?