Story of 3 Brave Women Preventing a Potential Rape is Hitting a Nerve
May 28th 2016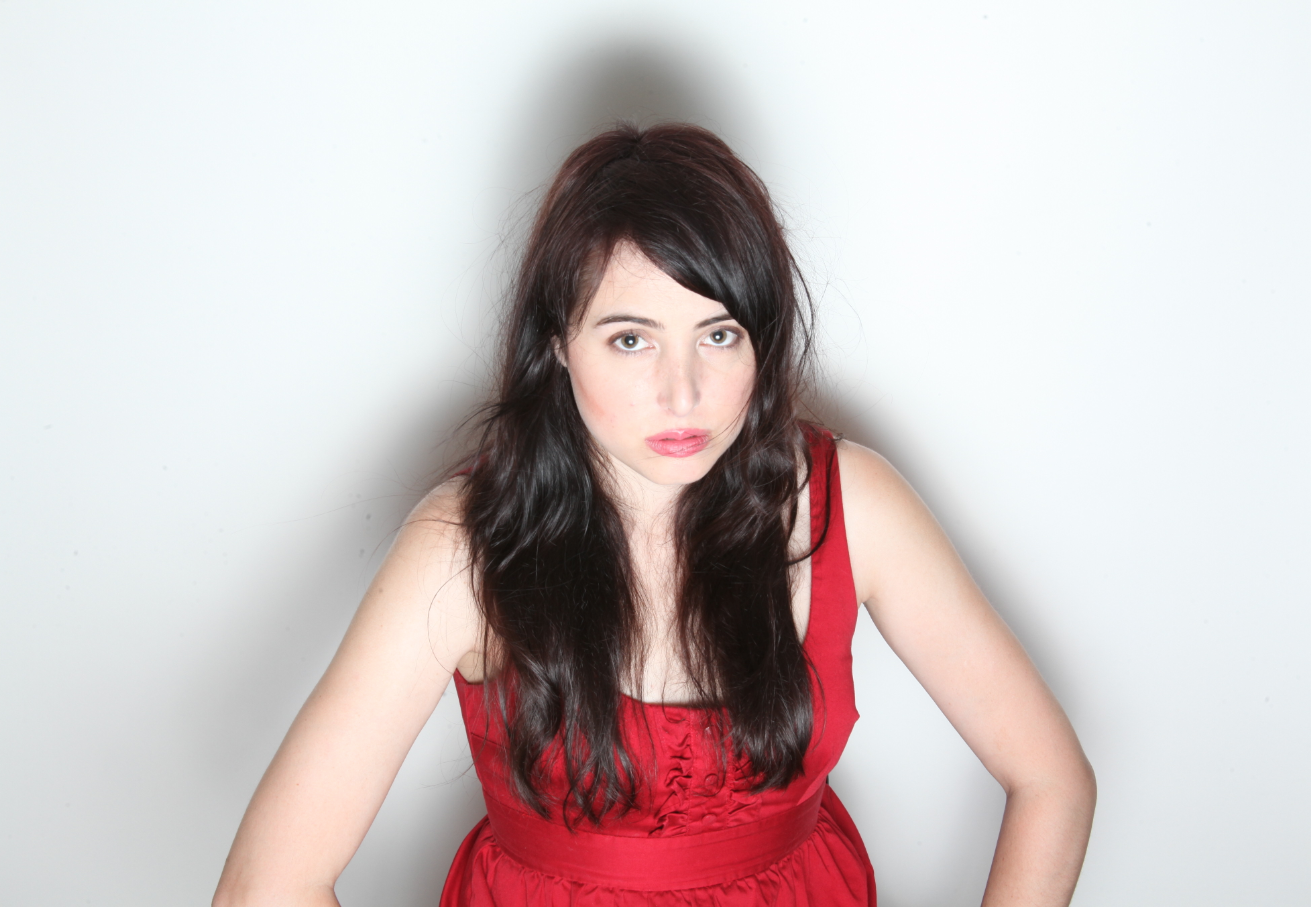 By:
You know how it is — it's Friday night, so you and your friends go to happy hour at a local restaurant, have some fun, have some drinks.
Then, you protect a stranger from being drugged.
Wait, what?
Three women were enjoying happy hour at The Fig restaurant in Santa Monica, Calif., when things took a scary turn.
One of them noticed that at another table, a man had poured something into his date's drink.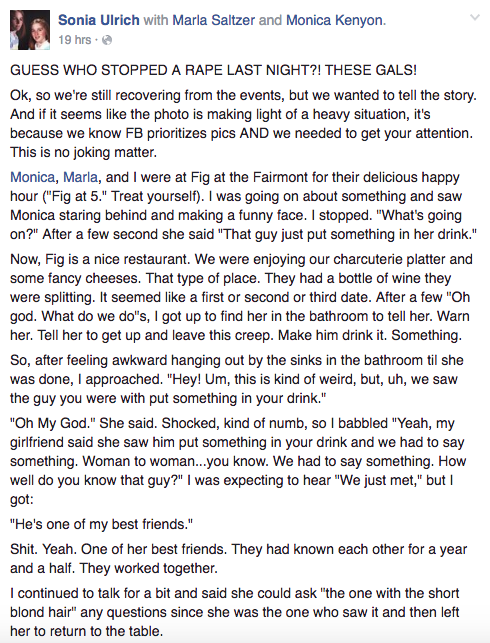 Sonia Ulrich/Facebook - facebook.com
"Monica, Marla, and I were at Fig at the Fairmont for their delicious happy hour," explains Sonia Ulrich in the above Facebook post, which has been shared more than 36,000 times.
"I was going on about something and saw Monica staring behind and making a funny face. I stopped. 'What's going on?' After a few second [sic] she said 'That guy just put something in her drink.'
When the woman went into the bathroom, Ulrich followed, so she could tell her what her dining companion did. It turns out, the woman wasn't on a random date, but with "one of my best friends."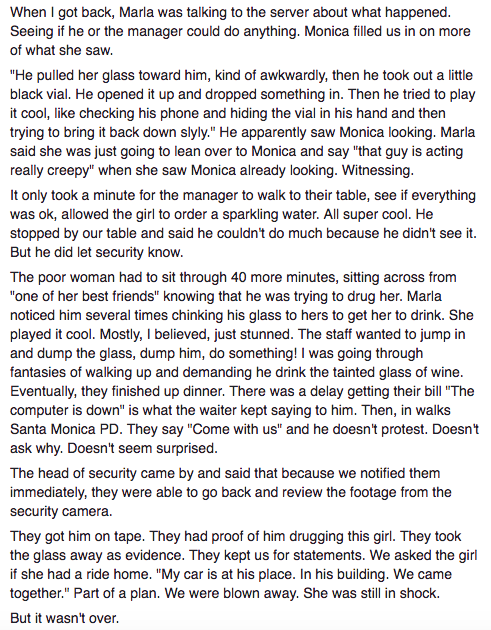 Sonia Ulrich/Facebook - facebook.com
They alerted the manager and called the police. They had to stall the man until they arrived.
Santa Monica police officers showed up, and removed the man from the restaurant. Security confirmed that they had video footage of him apparently drugging his friend's drink. Ulrich and her friends were surprised by what happened next.
ATTN: spoke with Santa Monica Police Lt. Richard Lewis, who confirmed that the incident did happen. ATTN: also spoke with a manager at The Fig, who said she cannot disclose any information at this time.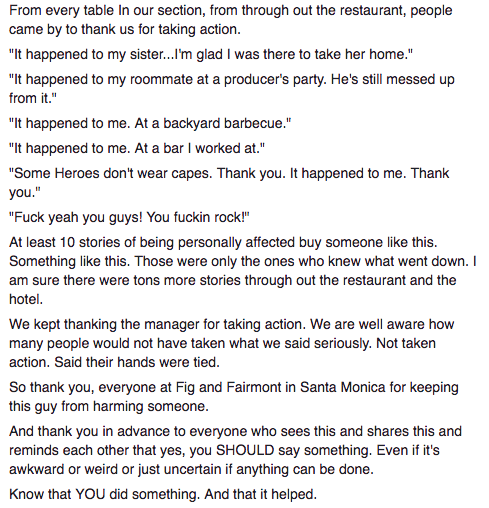 Sonia Ulrich/Facebook - facebook.com
Many diners personally thanked Ulrich and her friends for their actions.
"And thank you in advance to everyone who sees this and shares this and reminds each other that yes, you SHOULD say something," Ulrich advises. "Even if it's awkward or weird or just uncertain if anything can be done. Know that YOU did something. And it helped."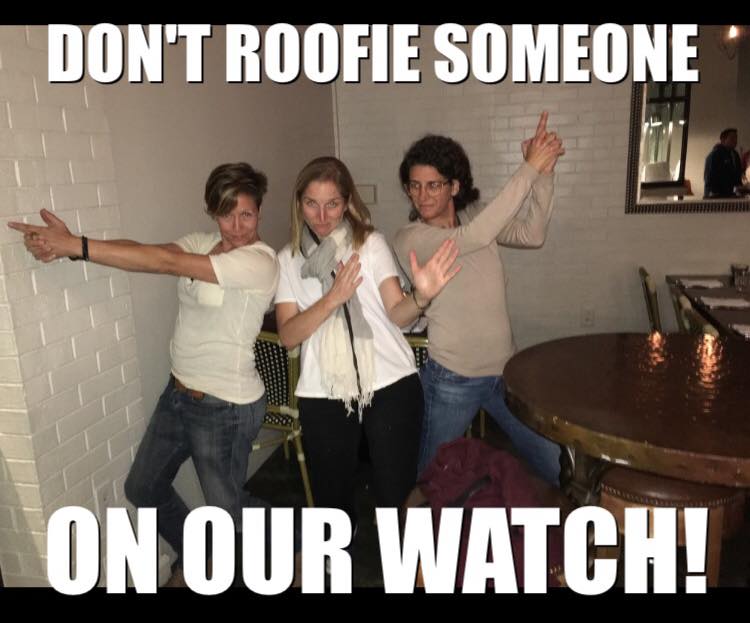 Sonia Ulrich/Facebook - facebook.com
Drug-facilitated sexual assault is a sad reality.
You have probably heard the advice that you shouldn't leave your drink anywhere at a bar, and women are often advised to keep drinks with them at all times, lest a stranger drug them. The sad truth is that 75 percent of all drug-facilitated rapes are done by acquaintances, not strangers, according to West Virginia Foundation for Rape Information and Services. They advise that if you believe you've been drugged to get help immediately, go to a safe place, and call 911.
ATTN: has reached out to Sonia Ulrich and will update if we hear back.
Share your opinion
Have you ever felt unsafe on a date?