Bumble Boldly Defends a Woman Who Was Criticized for Asking a Man About His Career
June 6th 2016
By:
Online dating can be a hub for harassment, particularly towards women, but one dating app will not condone this kind of behavior.
Bumble, which branded itself as a feminist dating app that gives women the chance to make the first move, recently published an open letter to a male user named Connor.
The company published the exchanges between Connor and Ashley, and showed Connor's aggressive response over questions about his job.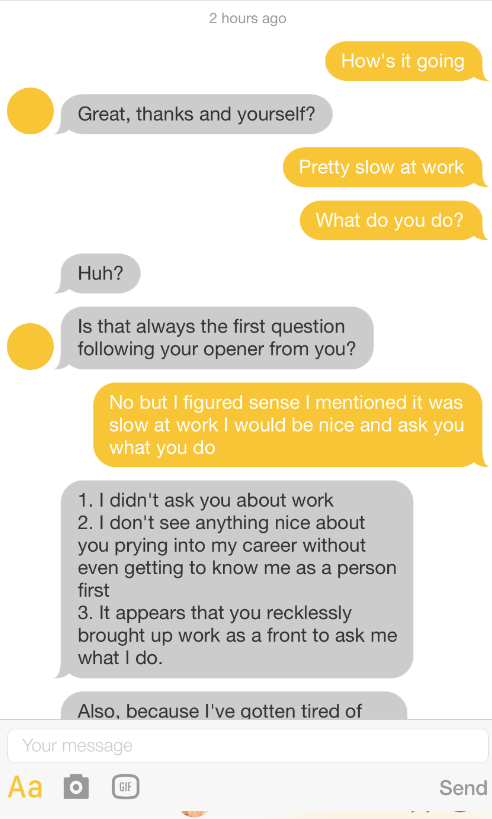 Bumble - bumble.com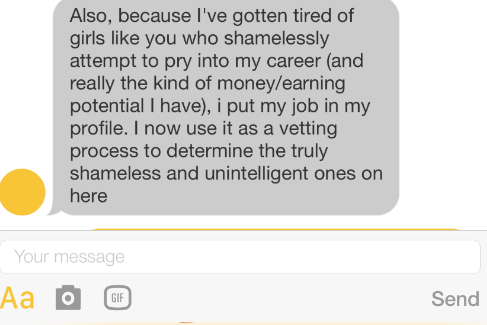 Bumble - bumble.com
Connor said he doesn't have time for "entitled, gold-digging whores" and appeared to shame Ashley's education and professional role.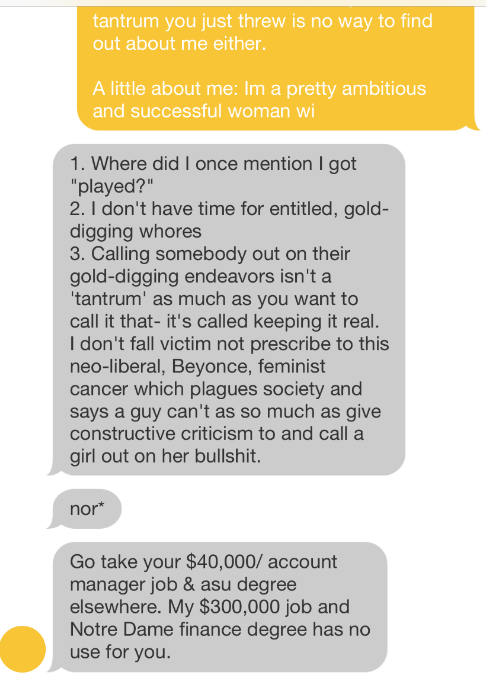 Bumble - bumble.com
After Bumble learned of the exchange, the company wrote on its blog that it won't put up with this type of bad behavior, and that Connor should have realized that Ashley was merely asking about work because careers matter to many young women.
"With that in mind — and knowing that Ashley simply mentioned work in the conversation — we can gather that she wasn't hoping to figure out if your wallet was sizeable enough for her to move into your house and start cooking dinner for you after vacuuming your living room while you clock in a 9 to 5 work day," Bumble wrote. "Instead, Ashley was (wait for it, Connor, because this is where things really get interesting), viewing herself as an equal. It might sound crazy, but people connect over the basic routines of life. You know… the weather, working out, grabbing a drink, eating, and working."
Bumble Twitter - twitter.com
Connor was blocked and Bumble plans to continue supporting working women on its platform:
"And while you may view this as 'neo-liberal, Beyonce, feminist-cancer,' and rant about the personal wounds you are trying to heal from classic 'entitled gold digging whores,' we are going to keep working. We are going to expand our reach and make sure that women everywhere receive the message that they are just as empowered in their personal lives as they are in the workplace. We are going to continue to build a world that makes small-minded, misogynist boys like you feel outdated.

We are going to hope that one day, you come around. We hope that the hate and resentment welling up inside of you will subside and you'll be able to engage in everyday conversations with women without being cowardice to their power. But until that day comes, Connor, consider yourself blocked from Bumble."
Bumble signed the letter with the hashtags #ImWithAshley and #LaterConnor, receiving ample support social media: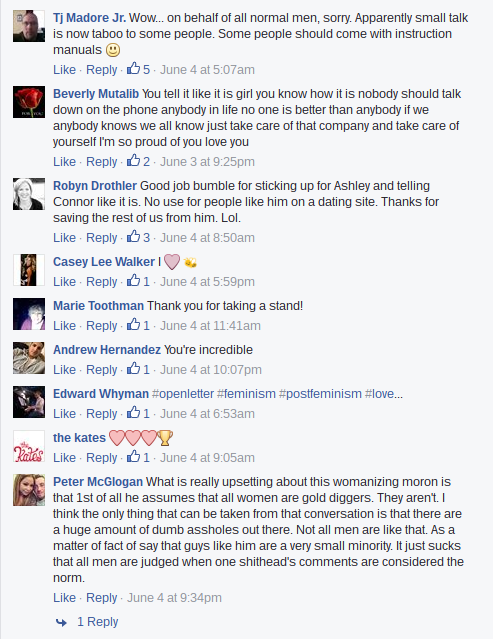 Facebook - facebook.com
A female Facebook user named Ashley Helmbreck claimed to be the Ashley in the text message exchange and thanked Bumble on Facebook for sticking up for her.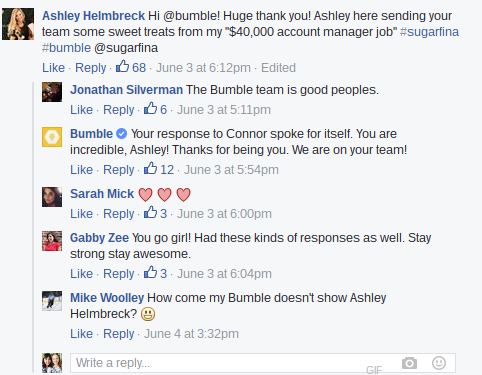 Bumble - facebook.com
ATTN: has reached out to Bumble for further comment on the exchange and will update this piece if the company responds.
Bumble has a strong stance against online bullying.
Last year, Bumble founder, Whitney Wolfe told Vanity Fair that she started the app in part to combat online bullying against women. Wolfe, who co-founded Tinder and sued the company for sexual harassment, said that this issue in particular is close to her heart.
"I am a huge advocate for anti-bullying in our youth," Wolfe said. "What I have seen with the rise of social media is that children are not facing bullying on a playground, they are facing it on their cell phones. Young girls are facing tremendous pressure on apps like Instagram, Twitter, and all sorts of social platforms."
Share your opinion

Have you ever faced hostility on online dating platforms?