How Many Mass Shootings Have Happened Since Sandy Hook
June 12th 2016
By:
Sunday's mass shooting at a gay nightclub in Orlando, Fla., took place three years and six months after a gunman killed 27 people — including 20 children — at Sandy Hook Elementary School in Newtown, Conn.
Sunday's Orlando shooting is now the deadliest mass shooting in U.S. history. It surpassed the 2007 mass shooting at Virginia Tech, which left 32 dead and 17 injured. The Sandy Hook tragedy, horrific as it was, is now only the third deadliest.
At around 2 a.m. on Sunday, a gunman identified as Omar Mateen opened fire in the gay nightclub Pulse, killing 50 and injuring 53. The massacre is being called an act of terror.
The Los Angeles Times published a graphic showing the "Deadliest mass shootings in the U.S.":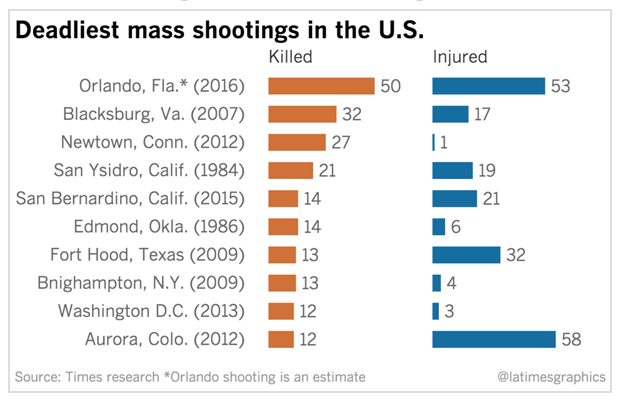 Los Angeles Times - latimes.com
Three of the 10 mass shootings on the list happened after the Sandy Hook tragedy. The Sandy Hook massacre is often seen as an important marker in the United States' effort to contend with its high levels of gun deaths and mass shootings — given the fact that 20 elementary school children were among those killed.
Sunday's shooting in Orlando, the 2015 terror attack in San Bernardino, and the 2013 attack on the Navy Yard in Washington are just three of the nearly 1,000 mass shootings that have taken place since the Dec. 14, 2012, Sandy Hook shooting, according to data collected by Gun Violence Archive and reported by Vox.
What qualifies as a "mass shooting" is broadly defined by Gun Violence Archive, Vox explained:
"The counts come from the Gun Violence Archive, a database that tracks events since 2013 in which four or more people (not counting the shooter) were shot at the same general time and location. The database's researchers comb through hundreds of news stories, police reports, and other sources each day and individually verify the reports. Still, since some shootings aren't reported, the database is likely missing some shootings, and some are missing details."
In 2016 alone, there have been 133 mass shootings — per the above definition — according to Gun Violence Archive:
On its methodology page, Gun Violence Archive defines a "mass shooting" as "FOUR or more shot and/or killed in a single event [incident], at the same general time and location not including the shooter." The organization defines "mass murder" as "FOUR or more killed in a single event [incident], at the same general time and location not including the shooter."
Not everyone defines mass shootings this broadly.
Mother Jones, which collected data on mass shootings from 1982 to 2012 and then expanded it from 2012 to 2016, following the Aurora movie theater shooting, used a more narrow definition of mass shooting (emphasis added by ATTN:):
"Our research has focused on seemingly indiscriminate rampages in public places resulting in four or more victims killed. We exclude shootings stemming from more conventional crimes such as armed robbery or gang violence. Other news outlets and researchers have published larger tallies that include a wide range of gun crimes in which four or more people have been either wounded or killed."
Prior to January 2013, Mother Jones used the FBI's 2005 guidelines to define a mass shooting "as an attack in a public place in which four or more victims were killed." In January 2013, the victim baseline was lowered to three or more following "a mandate for federal investigation of mass shootings authorized by President Barack Obama," Mother Jones reported.
An analysis of Mother Jones' data by researchers at the Harvard School of Public Health (released in 2014) found that the number of mass shootings is increasing. From a Los Angeles Times op-ed (emphasis added by ATTN:):
"Rather than simply tallying the yearly number of mass shootings, Harvard researchers Amy Cohen, Deborah Azrael, and Matthew Miller determined that their frequency is best measured by tracking the time between each incident. This method, they explain, is most effective for detecting meaningful shifts in relatively small sets of data, such as the 69 mass shootings we documented. Their analysis of the data shows that from 1982 to 2011, mass shootings occurred every 200 days on average. Since late 2011, they found, mass shootings have occurred at triple that rate — every 64 days on average."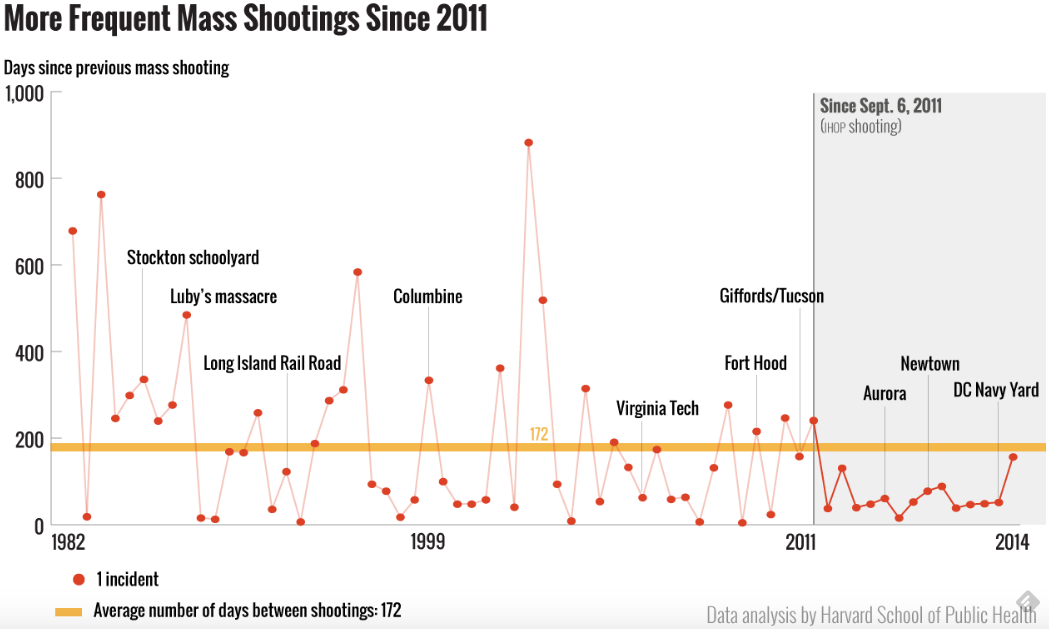 Mother Jones/Harvard School of Public Policy - motherjones.com
The assertion that mass shootings are becoming more frequent is disputed by James Alan Fox, a criminologist at Northeastern University. Fox's definition is more broad — including "domestic, gang, and drug-related shootings," according to Vox.
Using Mother Jones' dataset (which can be viewed here) and a narrower definition of "mass shooting," this writer counted 19 mass shootings since Sandy Hook.
Mother Jones and Gun Violence Archive are not the only ones monitoring mass killings.
USA Today is compiling FBI data, along with reports from local police departments, to track the number of mass killings — which are not limited to firearm deaths — though data are sometimes difficult to come by. Its report "defines a mass killing as four or more victims." According to its data, 77 percent of mass killings involve a firearm.
By USA Today's tracking:
"While only about 1 percent of all murders nationally, mass killings still happen frequently. The FBI counted 172 cases of mass killings between 2006 and 2011. That does not include some large states such as Florida, for example. Poor reporting by police agencies to the FBI also means some mass killings were left out, while others that don't meet the standard were included."
As USA Today pointed out, one in six mass killings is a "public massacre" — like the mass shootings in Newtown or Orlando. The majority of mass killings (53 percent) are family-related mass murders.
USA Today's index showed there have been 310 mass killings in the United States since 2006 — which included "public killing," "family killing," "robbery/burglary," or other incidents. Two-hundred and thirty-six of those killings were mass shootings; 44 of the 236 were public mass shootings.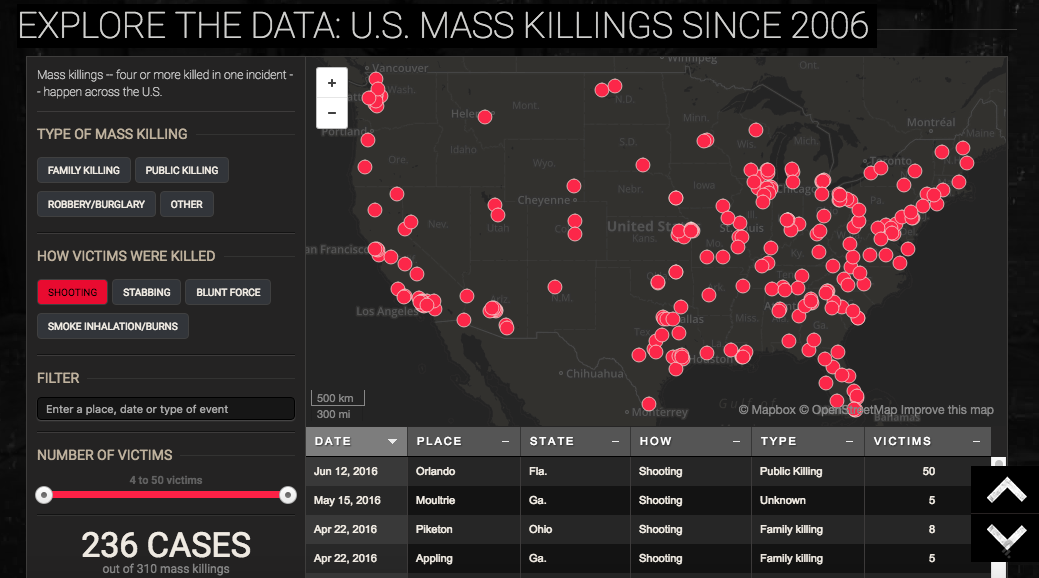 USA Today - gannett-cdn.com
Since the 2012 Sandy Hook shooting, the USA Today data showed that there have been 77 mass shootings (per this writer's count); 16 of those shootings were public massacres.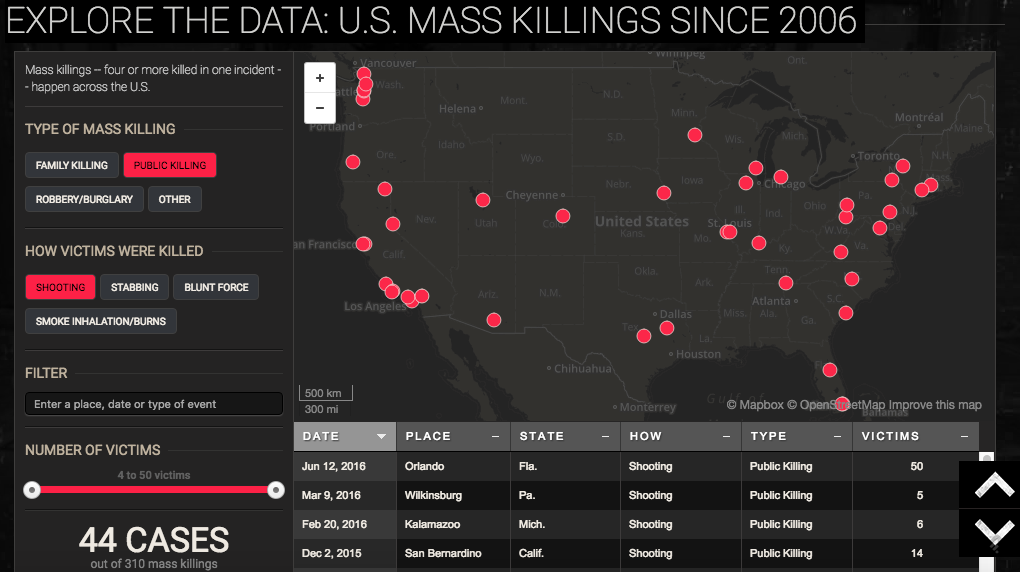 USA Today - gannett-cdn.com
Gun deaths in the United States.
Mass shootings like the tragedy in Orlando make up a small percent of U.S. firearm deaths. According to the Brady Campaign, around 32,000 people die because of guns.
Since the Sandy Hook Elementary School tragedy, Congress has not passed a single piece of gun control legislation, according to a December 2015 report from The Huffington Post.
Share your opinion
Do you regularly worry about mass shootings?