Magazine Covers Are Fueling an Overlooked Body Image Issue
June 17th 2016
By:
Women's magazine covers have repeatedly come under fire for using Photoshop and mostly featuring thin women, perpetuating unrealistic body image standards.
People frequently slam magazine covers for projecting a narrow idea of beauty, but there's another magazine cover, body-image issue that many overlook: armpits. Some publications have published images of what appear to be perfectly smooth, non-discolored, hairless female armpits.
Many women would attest that their armpits have bumps, ridges, discoloration, and sometimes even hair.
BuzzFeed India writer Srishti Dixit recently drew attention to this issue. In an article, Dixit called out Maxim India for seemingly Photoshopping actress Priyanka Chopra's armpits to look abnormally smooth for its June/July 2016 issue. There is not yet confirmation that the armpits were touched up; ATTN: has reached out to Maxim regarding the claim.
Dixit juxtaposed the magazine cover with another image of Chopra's armpit, which can be viewed over at BuzzFeed. In other images, however, like the one below, it's clear that she has a normal human armpit.
AP/Evan Agostini - apimages.com
"Lots of people aspire to look like actresses on magazine covers," Dixit wrote, adding that it's potentially harmful to set unrealistic beauty expectations for young female readers. "And it's LITERALLY, PHYSICALLY IMPOSSIBLE to have armpits like this."
Some of the commenters on Dixit's article expressed their own armpit appearance insecurities:
BuzzFeed - buzzfeed.com
These women aren't alone. Unilever, which owns the personal care brand Dove, revealed in 2011 that 93 percent of women who participated in a company survey felt that their armpits were ugly.
"We spoke with over 500 women, and almost every one of them thinks that their underarms are unattractive," Mike Dwyer, former marketing director for Unilever, told The Wall Street Journal at the time.
Magazine covers that feature oddly smooth armpits may feed this particular insecurity: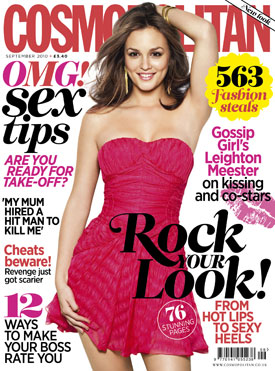 Cosmopolitan U.K.
This isn't even as weird as it gets.
Two years ago, Harper's Bazaar raised some eyebrows after publishing a photo of model Kate Upton that appeared to cut off one of her armpits:
"Listen, Harper's Bazaar — we don't like sweating, either," Huffington Post writer Jamie Feldman wrote in response to the social media buzz surrounding the photo. "But perhaps you could have remedied it with some Lady Speed Stick instead?"
[H/T BuzzFeed India]
Share your opinion
Do you think armpits need to be airbrushed on magazines?