Internet Reacts to Nude Photos of an Elderly Couple
June 27th 2016
By:
A series of nude portraits showing an older, interracial couple is winning the hearts of many on Facebook.
The following image, which was taken by Arizona-based photographer Jade Beall, has been shared more than 15,000 times and racked up 21,000 likes on the social media platform. The people in the photo are 75-year-old Gerry and 70-year-old Darwin, "beloveds for over 20 years," Beall wrote.
"I refuse to accept the wide spread (mostly Western) [sic] human belief system in regards to what is beautiful, especially when it comes to the sacred vessel we call our body," wrote Beall, who is starting a new series on couples over the age of 60. "Why do we accept to believe that one thing must be more beautiful than another? Why cannot we embrace a million-billion definitions of beautiful?"
Beall told ATTN: via email that her new photo series of elders has been a long time coming, as a lot of elderly individuals have expressed to her that they feel "invisible in our culture" today:
"I have been wanting to create a series of elders as so many women, and men, write me expressing how they feel invisible in our culture. Finding willing models has been a challenge, but Gerry and Darwin said yes and we had so much fun in the shoot. I knew people would like the photo, but I am shocked at how far it has reached, 2.8 million people according to my [Facebook] analytics."
Beall said she has come to see that "the world is ready to expand [its] definition of beautiful and [she hopes] to do a book on this precious subject."
Gerry, the woman in the photo, told Beall: "I love my body. I use a cane, [I] am having vision problems and my breasts reach to my waist, but you know what? I like me!"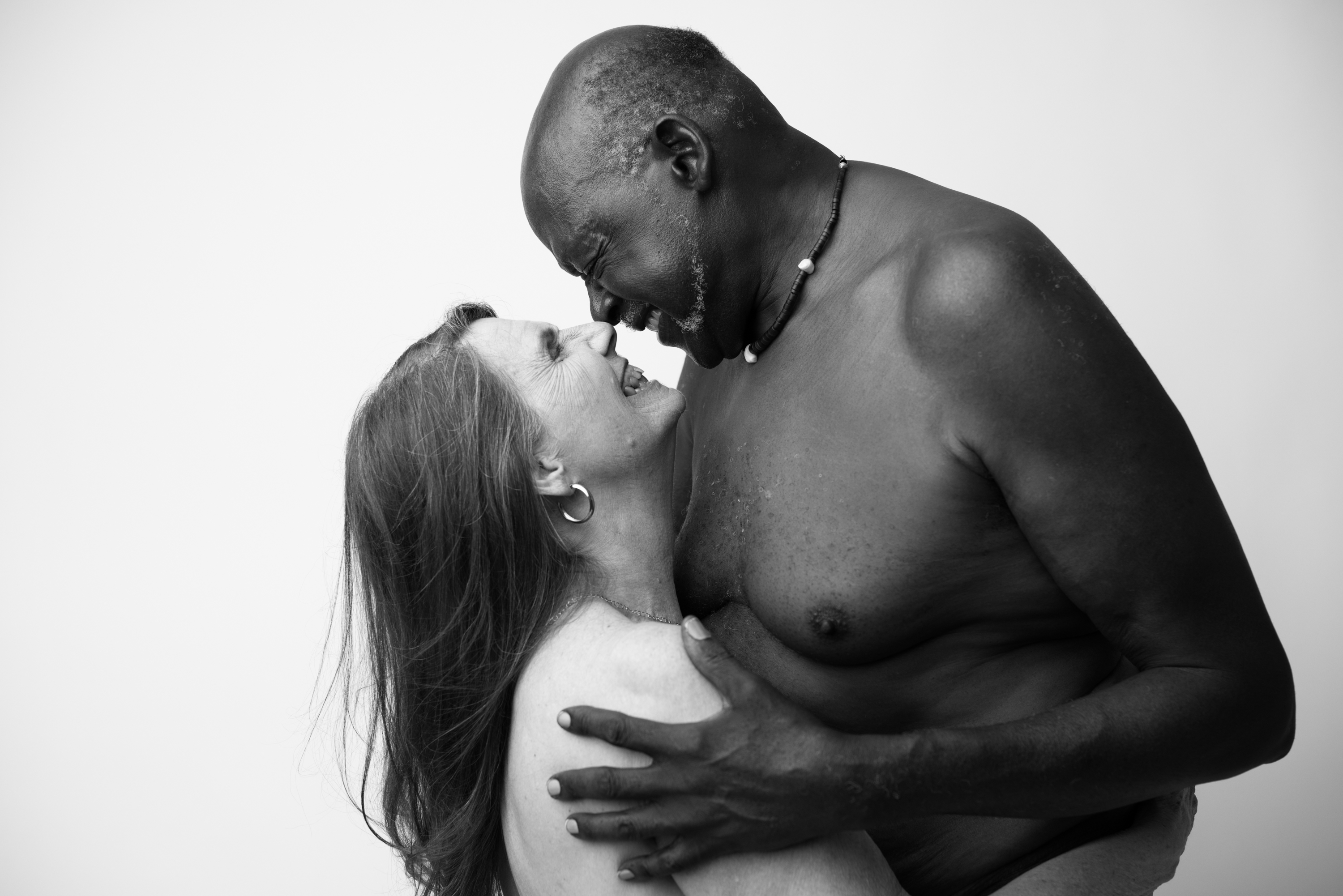 Jade Beall - facebook.com
Beall wrote that she has seen many people judge the appearance of older bodies and that she wants to challenge this idea by highlighting the complexity and beauty of aging.
"These elder bodies: the temples to decades of wisdom, heartbreak, strength, failure, triumph, THRIVING," Beall wrote. "How, I wonder, could they be anything but beautiful?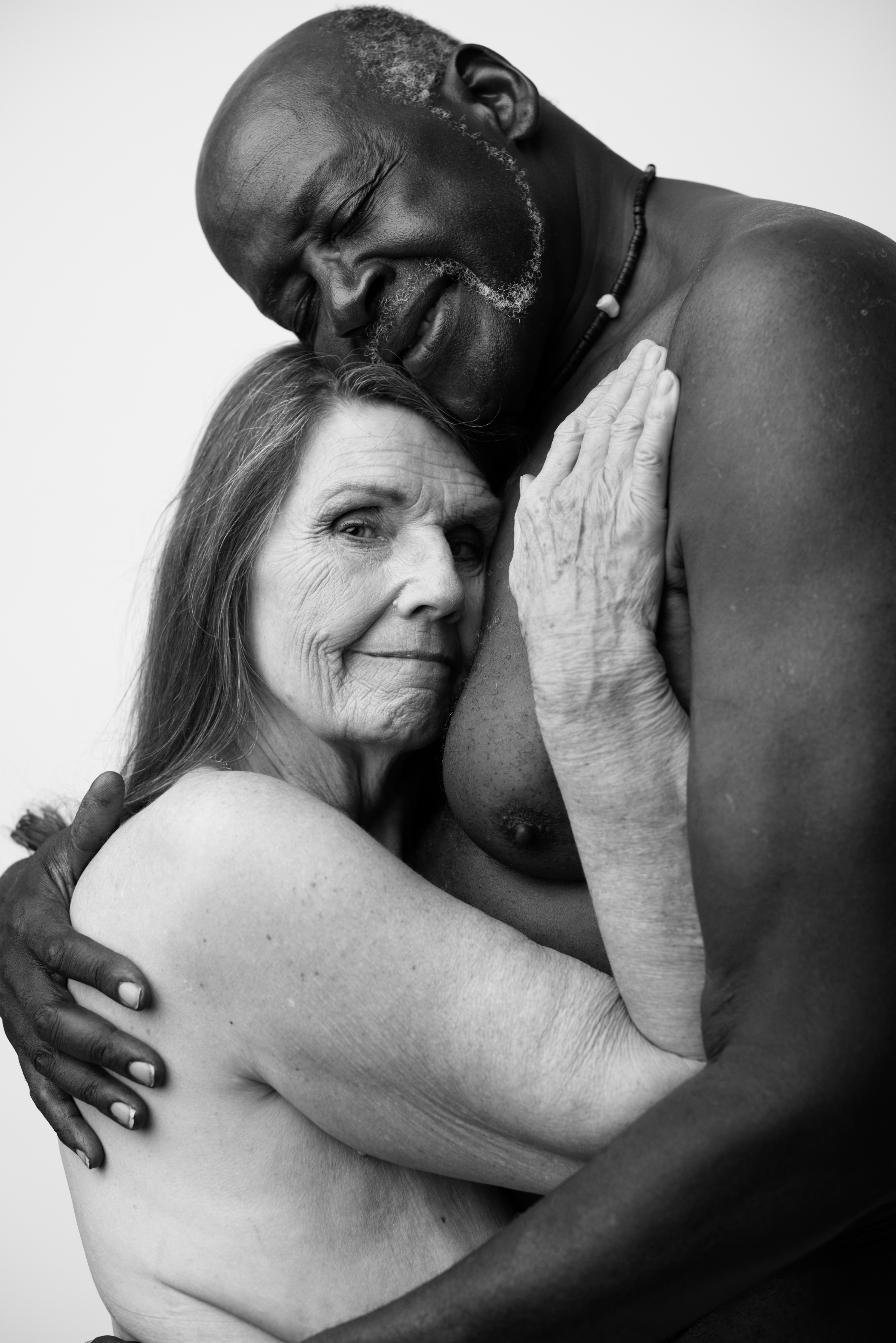 Jade Beall - facebook.com
Lots of people have showered the images with appreciation for depicting aging love. One commenter even noted that these images are more interesting than "conventionally attractive" individuals: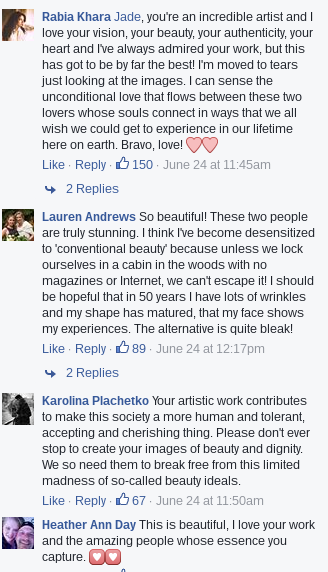 Jade Beall - facebook.com
Go to Beall's website for more of her work.
Update June 17, 2016 at 12:01 p.m. PT: This post has been updated with a statement from the artist.
Share your opinion
Do you appreciate seeing many different body types depicted in media?