Men's Fitness Has Some Creepy Non-Consensual Dating Tips
June 30th 2016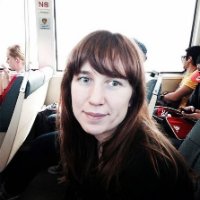 By:
A dating advice column for men has ignited quite a bit of online outrage. On Tuesday, Men's Fitness published and then took down an article, explaining how men can change the mind of a woman who has rejected them.
The article, titled "How to Turn a 'No' Into a 'Yes'," drew massive outrage on Twitter, where readers pointed out that it advised men to violate women's consent during dates, in relationships, and in bed.
The piece — structured as a slideshow — included specific guidelines for scenarios titled "At the bar," "On a date," "In a relationship," and "In bed."
In response to the backlash, the publication first removed some of the article, which was written by pick-up-artist Nick Savoy — notably the "in bed" section — and noted that it "had not met the editorial standards." Later, the entire piece was taken down from the site.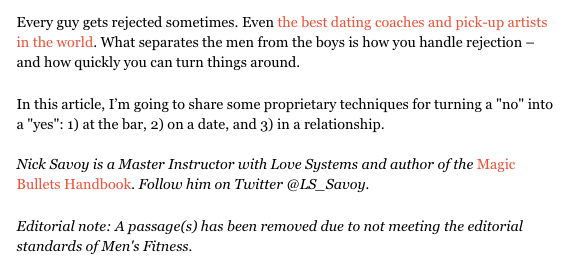 Men's Fitness
But much of its troubling material has been preserved on Twitter and via screenshots.
The article, along with the fact that it was published in a major men's magazine, is a perfect illustration of the pervasiveness of rape culture and the lack of understanding about consent.
Beyond the "in bed" section, which was removed, the "At the bar" portion of the article seemed to advise men to sexually harass women who rejected their advances.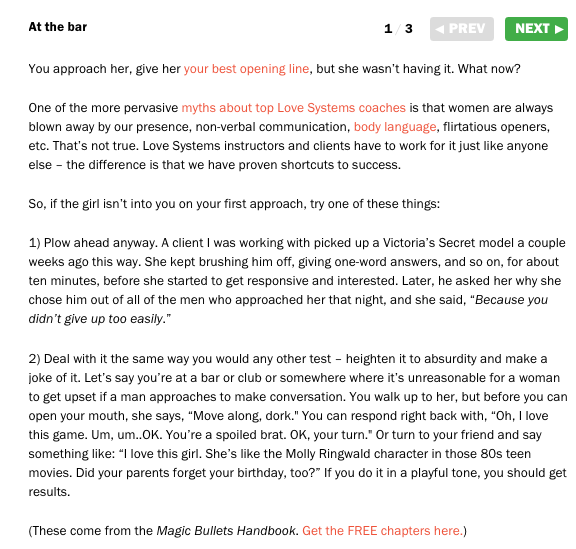 Men's Health
The article advises men to "plow ahead anyway" when women ignore or reject them at bars. The phrase alone prompted outcry.
The author fails to acknowledge that a woman has every right to reject whomever she chooses — and deserves to be left the hell alone if that is the case.
He writes (bolded for emphasis):
"Let's say you're at a bar or club or somewhere where it's unreasonable for a woman to get upset if a man approaches her to make conversation."
This line is telling. It assumes there are places or situations where a woman could be deemed "unreasonable" if she doesn't want to talk to a stranger, completely removing her agency to make her own decisions. This line of thought is similar to saying a woman is asking for it because of what she is wearing or how much alcohol she has consumed, as if these factors have the ability to signal decisions that have not been expressed by the woman herself.
Consent is never brought up.
Let's take a minute to remember some words from Amber Rose, who addressed this precise scenario on a February talk show appearance.
"If I want to wear a short skirt or a tank top, and I'm at the club and I'm having fun with my friends and I feel sexy, I'm not DTF," she explained. She also broke down how affirmative consent — "yes" means "yes" rather than simply "no" means "no" — still applies in the bedroom and everywhere else.
Twitter users have made some helpful edits to the piece.
One out of every six women in the United States has been a victim of "attempted or completed rape in her lifetime," according to the Rape, Abuse & Incest National Network. About 23.1 percent of college women are sexually assaulted as undergraduates. We do not need to teach men how to turn a "no" into a "yes" — "yes" means "yes" and "no" means "no."
The publication has yet to apologize for the story.
ATTN: reached out to Men's Fitness for comment and will update this post pending a response.
Share your opinion
Were you taught affirmative consent?