Why Etsy Suspended This Woman's Jewelry Shop From Its Site
June 29th 2016
By:
The stigma surrounding periods is nothing new, and London-based designer Lili Murphy-Johnson has tried to fight it through her menstruation-themed jewelry line:
However, she's recently been met with some setbacks.
The e-commerce site Etsy suspended her shop for selling "inappropriate" items, Women's Health Magazine reported. Among other things, Murphy-Johnson's products include a shirt with red beads on it in the shape of a menstrual blood leak.
An Etsy spokesperson told ATTN: in an email statement that it could not go into depth about Murphy-Johnson's particular situation, but that the brand "values artistic expression" and allows "very wide range of art, including art pertaining to menstruation" on its platform:
"Etsy highly values artistic expression and we allow a very wide range of art, including art pertaining to menstruation. One can search our marketplace to see that there are many items pertaining to menstruation and related matters; we encourage you to explore the amazing diversity of items made by our community.

That said, all items on Etsy, including art, must make sure to follow our policies for mature content and prohibited items. In some cases, sellers who are unwilling to follow these policies may be removed from the marketplace.

Additionally, here are examples of other Etsy sellers creating menstruation-themed artwork."
Here are some examples of "menstruation art" that adhere to Etsy's policies.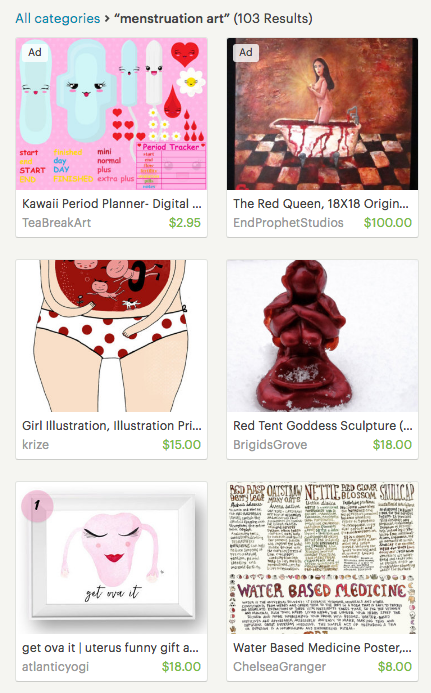 Etsy.com - etsy.com
And here's an example of Murphy-Johnson's art.
Etsy's policy states that all pornography is prohibited and that mature content is "restricted."
"We define mature content as depictions of male or female genitalia, sexual activity or content, profane language, violent images (within reason; see also Violent Items), and explicit types or representations of taxidermy.

Mature content must be properly listed and tagged as such. Not all nudity is considered mature, and examples of non-mature nudity are listed below. If you find yourself questioning whether your item is mature, then it is likely a good idea to assume that it is mature content, and you should label it as such."
Here are some examples of non-restricted nudity on Etsy.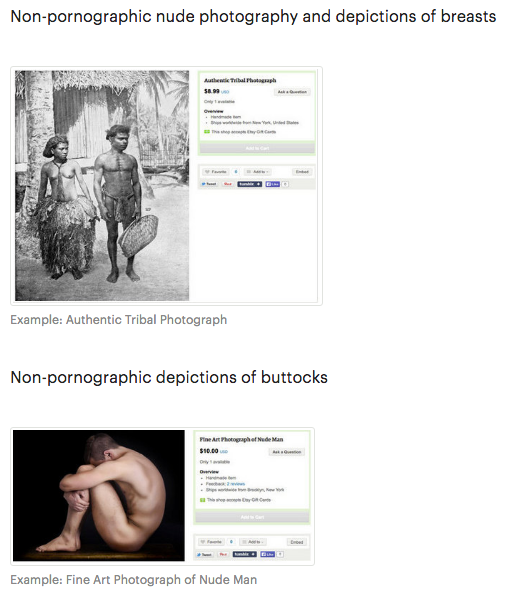 Etsy.com - etsy.com
Murphy-Johnson told Cosmopolitan in a new interview that she was "surprised" by Etsy's decision to suspend her, as she didn't find her products offensive:
"I felt like I was being told that I was doing something wrong or that I'd done something disgusting, forcing people to look at something they shouldn't have to, which annoyed me. I know that wasn't true. I was mostly surprised they reacted like that and that they didn't let me sell my jewelry."
She added that people who don't treat periods as normal biological functions of women may "automatically think it's bad, wrong, and gross."
"It's just what most people are brought up to think and what society generally makes you feel like about periods unless you question it," she continued.
Share your opinion
Was Etsy wrong to suspend Murphy-Johnson's items?