Hilarious Viral Facebook Post Shows That There Is Still Hope in the World
June 30th 2016
By:
It's been a tragic and emotionally taxing month for the U.S. and other countries across the world. However, a hilarious Facebook post about three North American leaders is here to tell us that there is hope left in the world.
It all started when Facebook user R. Eric Thomas saw this photo of three world leaders: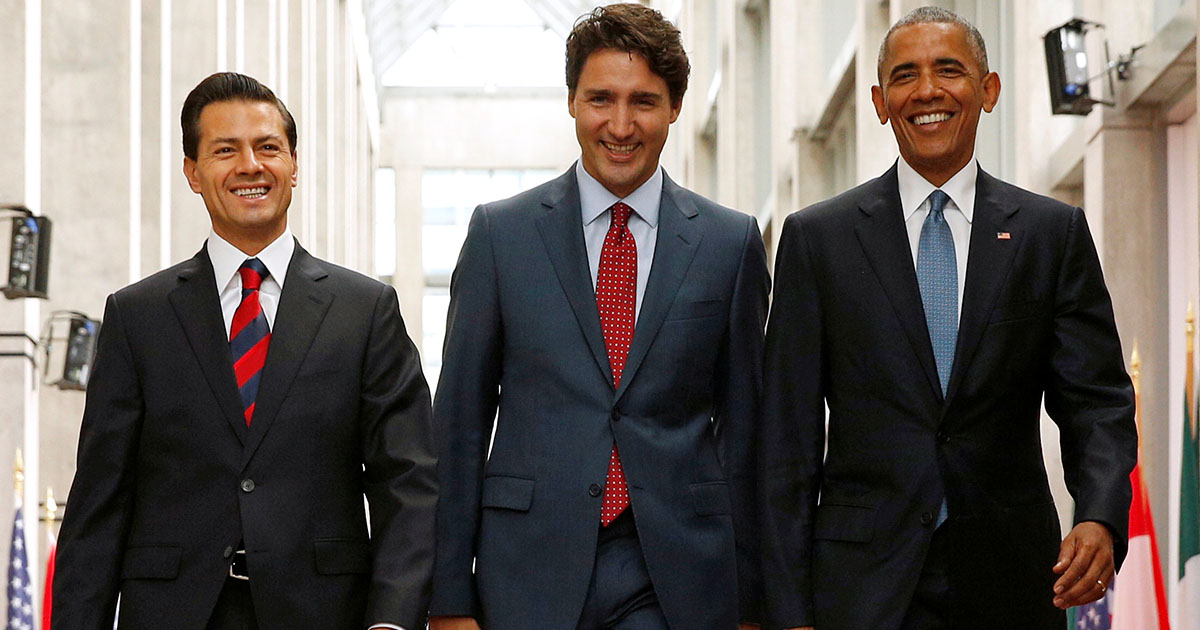 REUTERS/Kevin Lamarque - reuters.com
Mexican President Enrique Peña Nieto, Canadian Prime Minister Justin Trudeau and President Barack Obama met at the North American Leaders Summit in Ottawa, Ontario this week, according to CNN.
After the Orlando nightclub shooting, terrorist attacks, political upheaval, and anti-immigration sentiment, Thomas wrote in his post that this photo is what the world needed. He said that the three presidents look like movie stars in a post that has been liked almost 19,000 times and shared more than 4,600 times.
"Whoever took this photo deserves a GD Pulitzer Prize. We may be two minutes from doomsday but thank the Lordt we still live in a universe where three world leaders can strut into a room like they're the new interracial male cast of Sex and the City. Like I have ALREADY prepurchased tickets to this film."
He described how the three powerful men look like super models and superheroes at the same time.
"Out here in these streets looking like Career Day Ken. Looking like Destiny's DILF. Looking like the Alternate Universe version of our Current Political Universe. Looking like Tom Ford presents The Avengers. How you going to be one of the leaders of the 'free' world and still stalk the runway, killing all our faves? "
The only thing that could make the picture better is if Beyonce's BET Awards choreographer staged it, according to Thomas.
"The only thing that would make it better is if they were pounding through a pool of water like Bey-sus on the BET Awards. Why do any of us walk on land anymore, tbh? YES YOU BETTA SALUTE YOU MOUNTIES!"
He finished by declaring the three world leaders the winners of Logo's "RuPaul's Drag Race," called Obama out for a Rihanna video audition, and offered Pulitzer Prizes to the photographers.
"Pledge allegiance to this day drag! Based solely on this photo all three of them were just declared the first non-drag winners of RuPaul's Drag Race. Happy Heterosexual Pride Day, y'all. And look at Obama's smile! Don't try to tell me that man isn't angling for the lead in a Rihanna's next music video. Drake wishes he was this happy. And Drake is so happy. Oh my God. I need to sit down. I'm getting light-headed.
[Edit: unclear if the photographer is Kevin Lamarque or Stephen Crowley--it's credited to Reuters. So... Give them both the Pultizer.]"
Obama, Trudeau, and Nieto reportedly spoke about the terror attacks in the Istanbul airport that killed at least 40 people, the United Kingdom's Brexit vote to leave the European Union, and Donald Trump's anti-immigration platform, according to CNN.
"The United States is not just a friend and neighbor of Mexico but the very character of the United States is shaped by Mexican Americans who have shared our culture, our politics, our business," Obama said in a press conference after the meeting, reported by CNN. "All too often we're hearing rhetoric that ignores the enormous contributions that have been made by Mexican Americans and the enormous strengths we draw from the relationship."
Share your opinion
Are you worried about the future for countries across the globe?