The Other Group of People Getting Killed by Police That We Can't Ignore
July 11th 2016
By:
There were five other people killed by police last week, but you probably don't know their names. Between July 3 and July 9, five Latinos were shot and killed in the U.S. by police, according to TeleSUR, a public news outlet sponsored by various Latin American governments. The incidents happened during the same week as the high-profile deaths of Alton Sterling and Philando Castile, both black men.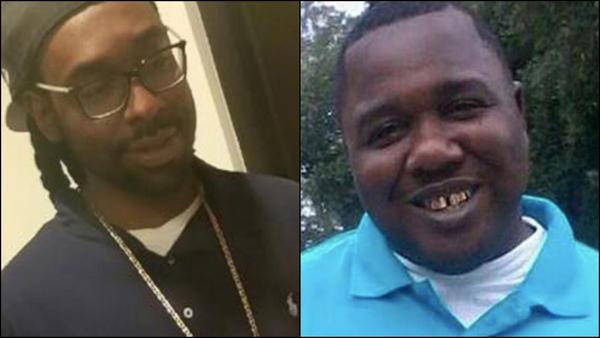 Here are the five Latinos killed by police last week:
1. Vinson Lee Ramos
Vinson Lee Ramos, 37, was shot and killed by police in Bell, California, while holding a knife, according to the Southgate-Lynwood Patch. The police were called after Ramos and his girlfriend were arguing at a fast-food restaurant. He was killed when he allegedly didn't follow police commands to drop the knife, according to local ABC affiliate KABC-TV.
"We are grieving and we don't understand why three officers shot at him," said Ramos' aunt to KABC-TV. "It just seemed unnecessary."
2. Melissa Ventura
Melissa Ventura, a 24-year-old mother of three, was shot and killed by police in Yuma County, Arizona. Police knocked on the door of Ventura's house and shot her after she allegedly came at them with a knife. Ventura had a history of mental illness, according to the Yuma Sun.
3. Pedro Villanueva
Pedro Villanueva, 19, died after undercover California Highway Patrol officers shot into his moving car, according to the Los Angeles Times.
The undercover officers were monitoring a street racing event and followed Villanueva. They tried to stop him in Fullerton, California, but police officials said that Villanueva tried to drive his car at the officers, according to the Los Angeles Times.
4. Raul Saavedra-Vargas
Police shot and killed Raul Saavedra-Vargas in Reno, Nevada, after he allegedly tried to drive through the barricades at a festival to avoid a traffic stop, according to Nevada NBC affiliate KRNV.
5. Anthony Nuñez
Anthony Nuñez, 18, was killed by San Jose Police in California after they attempted to stop him from committing suicide, according to California CBS affiliate KPIX-TV.
Nuñez had reportedly already shot himself on the side of his head when the officers had a confrontation with him. Police said that the he then aimed a gun at himself and at the officers, according Latina Magazine.
"I come home to my son being dead," his mother, Sandy Sanchez, said to Latina Magazine. "He's no longer with us and I'm trying to make sense of everything. He was well and alive and happy ... Now I have to bury my son. Over what?"
So why don't police-involved killings of Latinos get more media attention?
Black people are disproportionately killed by police officers — at a higher rate than Latinos — according to The Counted, The Guardian's project on U.S. police shootings.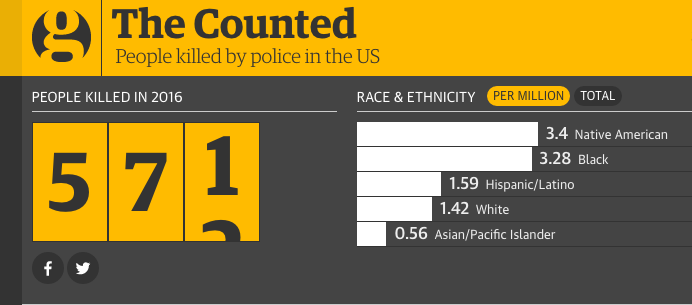 The Guardian - theguardian.com
However, the data on Latinos killed by police is less comprehensive. One obstacle is that Latinos can fall into different racial categories. The ethnic group is a mix of white, black, and Native American heritage. The U.S. Census acknowledges the complicated definition of Latino.
"Hispanic origin can be viewed as the heritage, nationality, lineage, or country of birth of the person or the person's parents or ancestors before arriving in the United States. People who identify as Hispanic, Latino, or Spanish may be any race." - U.S. Census Bureau
Latin America received 25 times more slaves than the U.S. during the Trans Atlantic Slave Trade, and more Latinos, who were previously hesitant to identify with their African racial heritage now identify as black, according to Remezcla, a news source aimed at Latino Millennials. Basically, it's possible to be Latino and black at the same time.
Also there are cultural influences that could make the Latino community less reactive to police shootings. Mexican immigrant Yolanda Dominguez said that police in the U.S. seem less dangerous than the ones in Mexico.
"Over there the police are always asking for bribes," she told the Los Angeles Times. "Here they try to help."
Attorney Amin David told the Los Angeles Times that most of the attention on Latino civil rights issues goes to immigration.
"Immigration occupies a big part of our table," David said. "It squeezes out the police component."
He also said that black churches have played a large role in the political consciousness about racial issues facing the black community, but Catholic churches that dominate Latino communities don't.
"I really applaud the African American churches," David said to the Los Angeles Times. "They really know the buttons to press."
Share your opinion
Did you know that Native Americas are the racial group most likely to be killed by police?