President Barack Obama Delivers Powerful Message at the Memorial for Dallas Police Officers
July 12th 2016
By:
President Barack Obama wants Americans to have real and honest conversations about race and the criminal justice system. At the memorial service Tuesday for five police officers killed in Dallas, Texas last week, Obama called out the truth about racism in the U.S.: we all know it exists, but not everyone wants to admit it.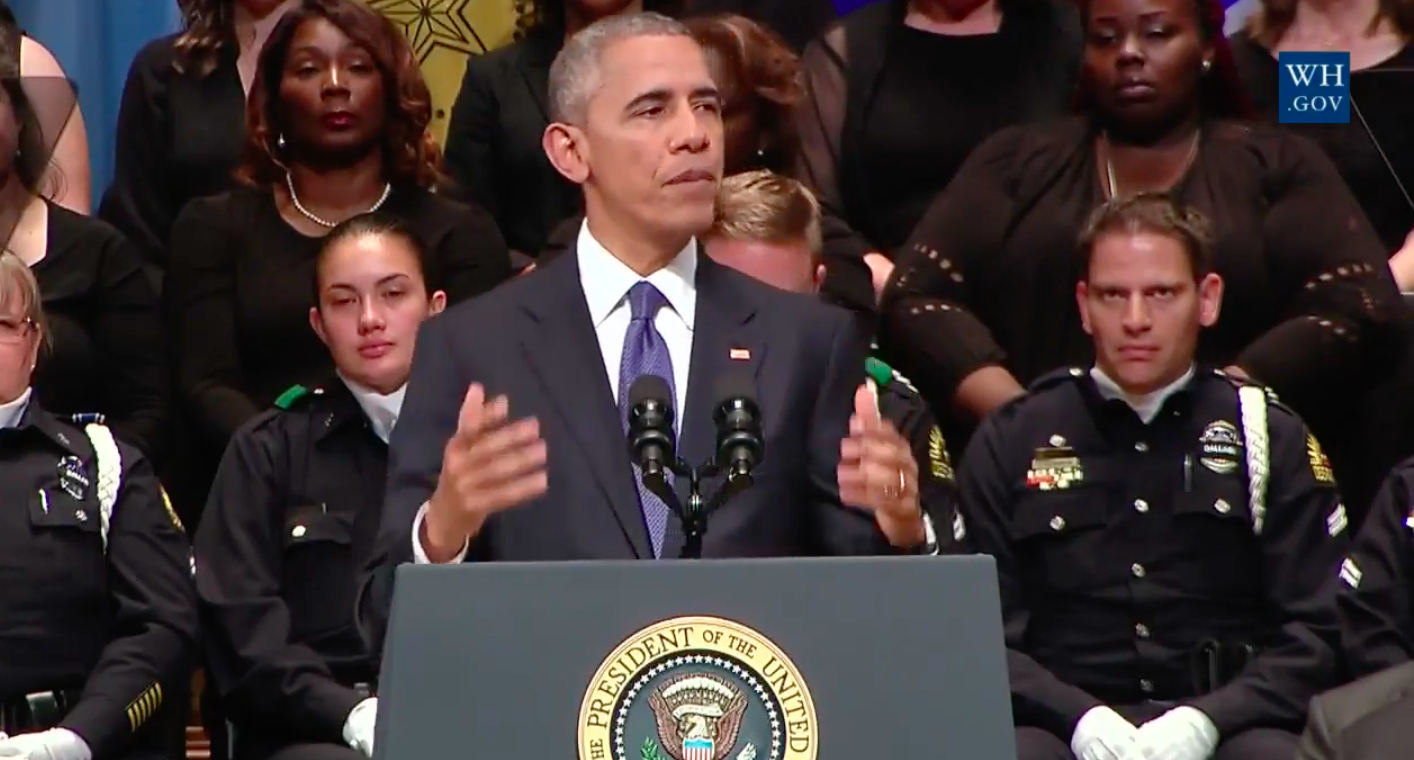 White House - whitehouse.gov
"The deepest fault lines of our democracy have suddenly been exposed, perhaps even widened," he said. After two controversial shootings of black men by police last week and the following attack on Dallas police officers, Obama said that groups of Americans feel uncertain about the future.
"We wonder if an African American community that feels unfairly targeted by police and police departments that feel unfairly maligned for doing their jobs can ever understand each other's experience," he said.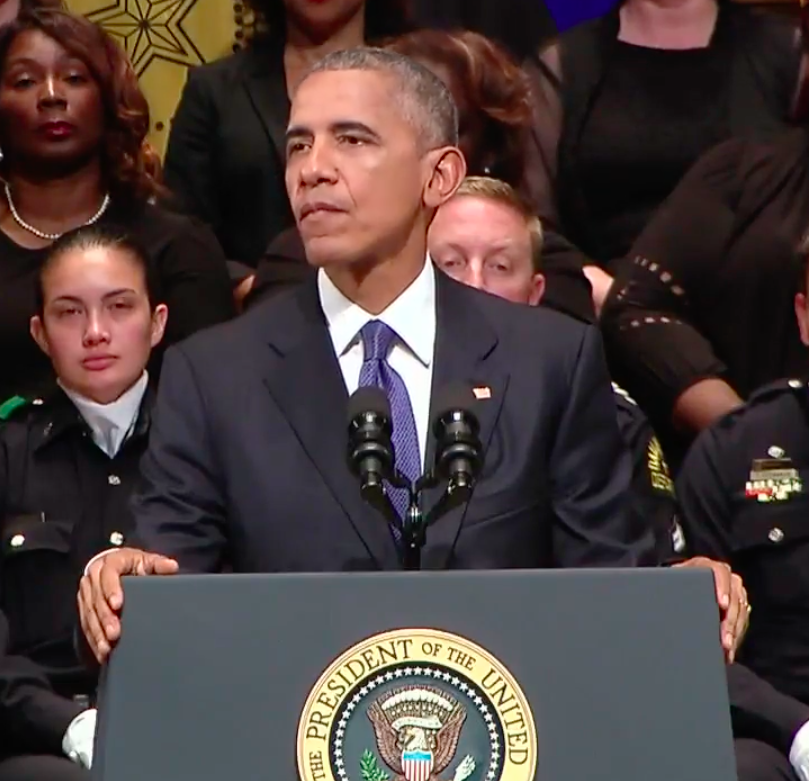 White House - whitehouse.gov
In a balancing act of honoring police officers and standing up against racial discrimination, Obama emphasized that honest conversations about racism are the only solution for ending violent acts of hate and institutional discrimination in the U.S.
"If we are to honor these five officers, outstanding officers who we've lost, then we will need to act on the truth that we know and that's not easy. It makes us uncomfortable, but we're going to have to be honest with each other and ourselves."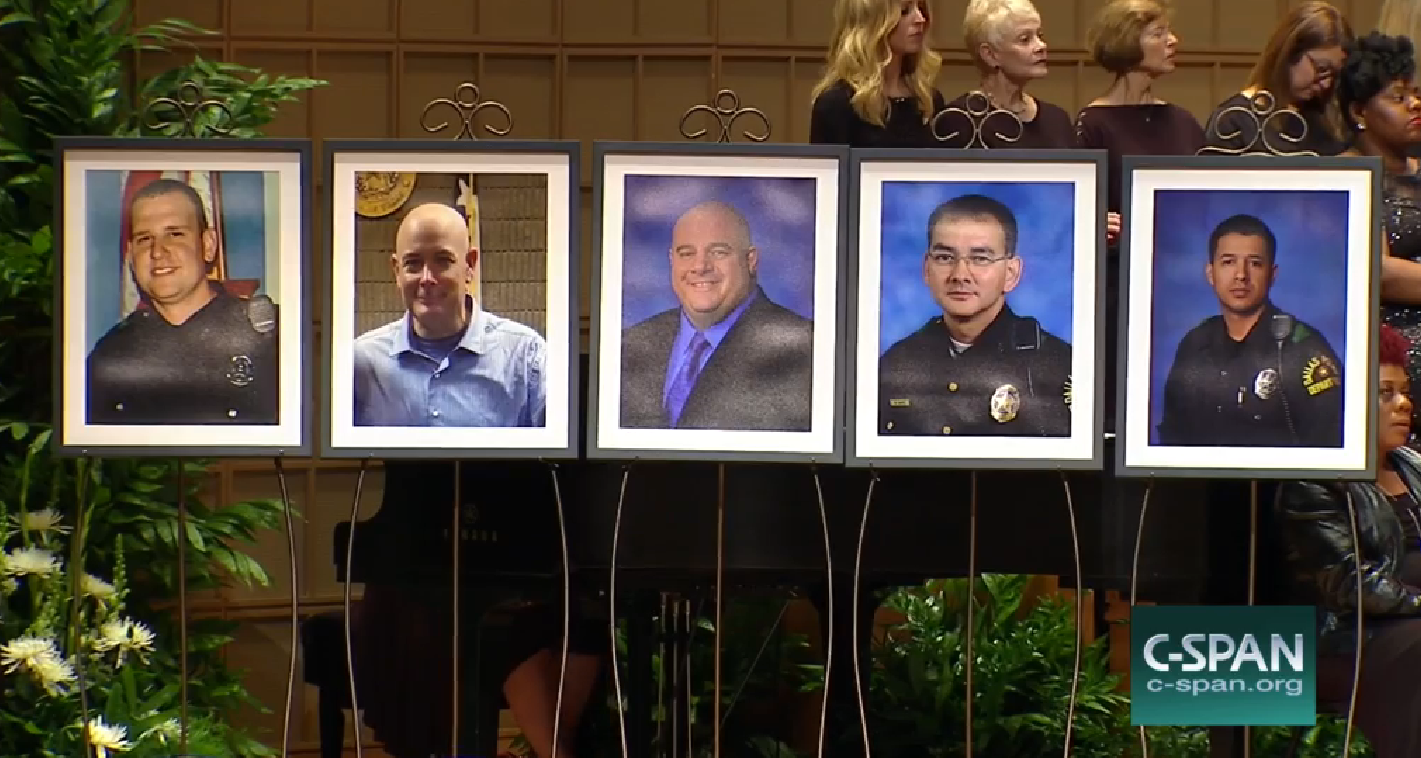 CSPAN - c-span.org
Obama described how the vast majority of police officers are good cops and do "an incredibly hard and dangerous job fairly and deserve "respect and not our scorn." He also warned that violence against police only makes the cause of racial justice harder to reach.
However, he said that supporting police officers doesn't mean ignoring America's long history of institutional racism.
"We also know that after centuries of slavery of racial discrimination, of slavery, and subjugation, and Jim Crow, they didn't simply vanish after lawful segregation. They didn't just stop when Dr. King made a speech or the Voting Rights Act or the Civil Rights Act were signed."
Obama said that he's seen great improvements in race relations in his lifetime but there is still important work to be done. He said that Americans know racism still exists whether they want to admit it or not.
"But we know, But America we know that bias remains. We know it. Whether you are black or white, or Hispanic or Asian or Native American or of Middle Eastern descent, we have all seen this bigotry in our own lives at some point."
In a defense of Black Lives Matter activists, Obama said that America needs to listen to the complaints of black people.
"No institution is entirely immune and that includes our police departments. We know this. So when African Americans from all walks of life from different communities across the country voice a growing despair over what they perceive to be unequal treatment, when study after study shows that whites and people of color experience the criminal justice system differently, so that if you're black you're more likely to be pulled over or searched or arrested, more likely to get longer sentences, more likely to get the death penalty for the same crime when mothers and fathers raise their kids right and have 'the talk' about how to respond if stopped by a police officer, 'yes sir, no sir,' but still fear that something terrible may happen when their child walks out the door, still fear that kids being stupid and not quite doing things right might end in tragedy when all this takes place more than 50 years after the passage of the Civil Rights Act, we cannot simply turn away and dismiss those in peaceful protest."
Obama is speaking from a wounded city.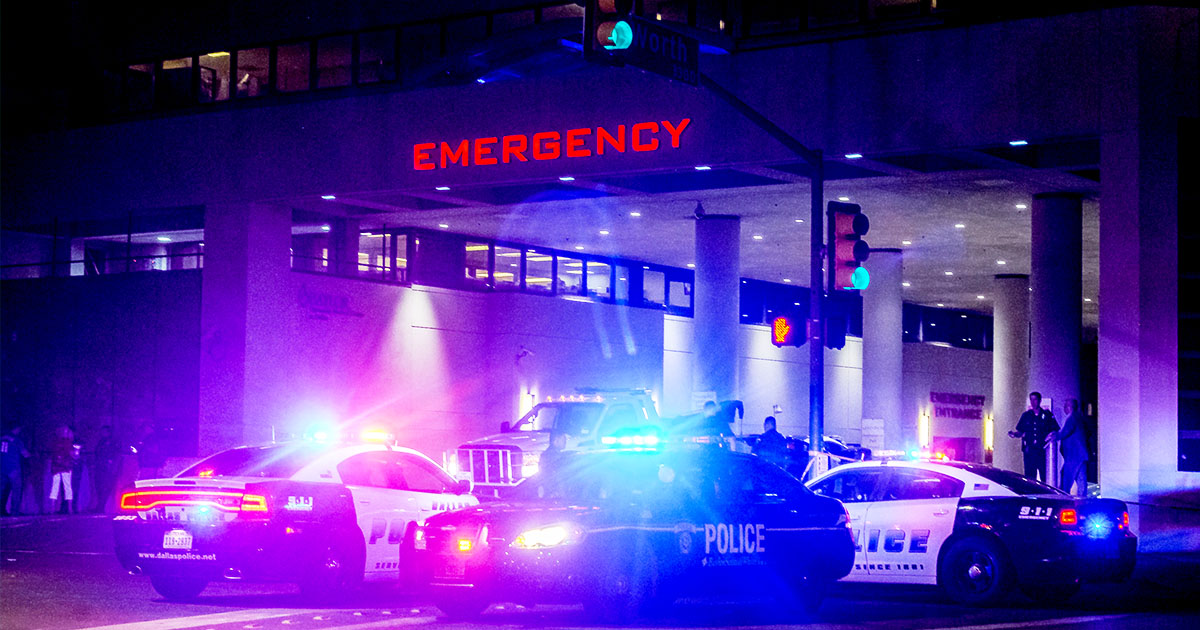 AP/Mark Kaplan - apimages.com
Micah Johnson, 25, shot and killed five police officers and injured seven more at a Black Lives Matter protest last week because he wanted to kill white people and white police officers, according to Dallas Police Chief David Brown. Two civilians were also injured in the attack.
The protest was peaceful up until Johnson started shooting. Protesters even took pictures with police officers.
The shooting of Dallas police officers followed national outrage about the shootings of Alton Sterling in Baton Rouge, Louisiana and Philando Castile near Minneapolis, Minnesota by police officers. Both of the shootings were captured, in part, on camera. Before speaking in Dallas on Tuesday, Obama called Philando Castile's mother Valerie Castile to offer his condolences for the death of her son.

"One of the great things about America is that individual citizens and groups of citizens can petition their government, can protest, can speak truth to power. And that is sometimes messy and controversial but because of that ability to protest and engage in free speech, America over time has gotten better. We've all benefited from that."
Share your opinion
Do you worry that there will another mass shooting soon?