One Quote Predicts Today's Police Brutality Nearly 50 Years Ago
July 13th 2016
By:
The violence of last week conjures up the history and memory of the violence and racial tension of 1968, and a quote from a famous author and cultural critic makes the comparison seem all too apt.
Consistently in the 1960s, riots and "racial disorders" broke out all over the country every summer in response to institutional racism. On April 4, 1968, Dr. Martin Luther King Jr. was assassinated by white supremacist James Earl Ray in Memphis, Tennessee. In response to King's death, riots broke out all across the country.
Esquire interviewed author and social justice icon James Baldwin shortly after King's death and in the middle of the turmoil.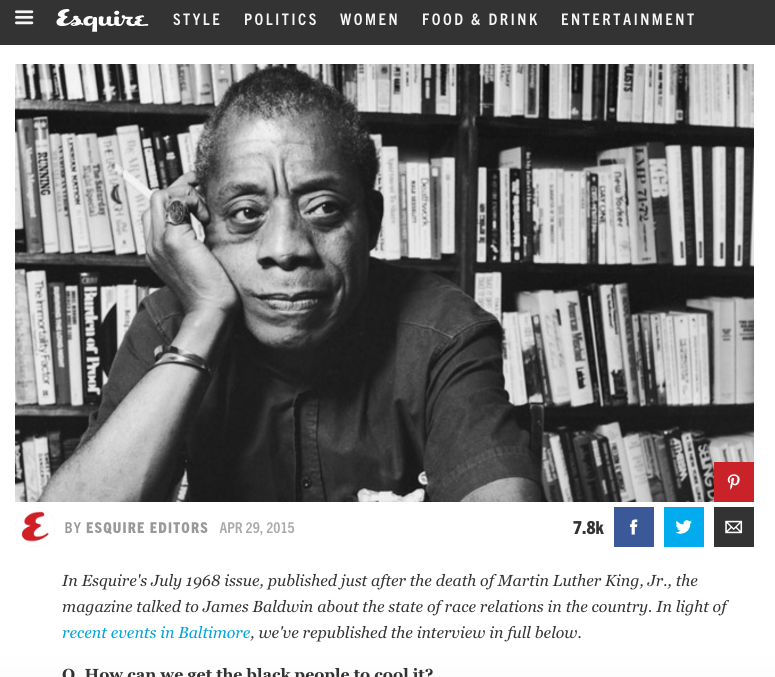 Esquire - esquire.com
After a week in 2016 where two black men were killed by police officers and a racially motivated gunman killed five police officers at a Dallas Black Lives Matter protest, Baldwin's words ring true almost 50 years later.
"You would have to educate them. I really have no quarrel particularly with the policemen. I can see the trouble they're in. They're hopelessly ignorant and terribly frightened. They believe everything they see on television, as most people in this country do. They are endlessly respectable, which means to say they are Saturday-night sinners. The country has got the police force it deserves and of course if a policeman sees a black cat in what he considers a strange place he's going to stop him; and you know of course the black cat is going to get angry. And then somebody may die. But it's one of the results of the cultivation in this country of ignorance. Those cats in the Harlem street, those white cops; they are scared to death and they should be scared to death. But that's how black boys die, because the police are scared. And it's not the policemen's fault; it's the country's fault."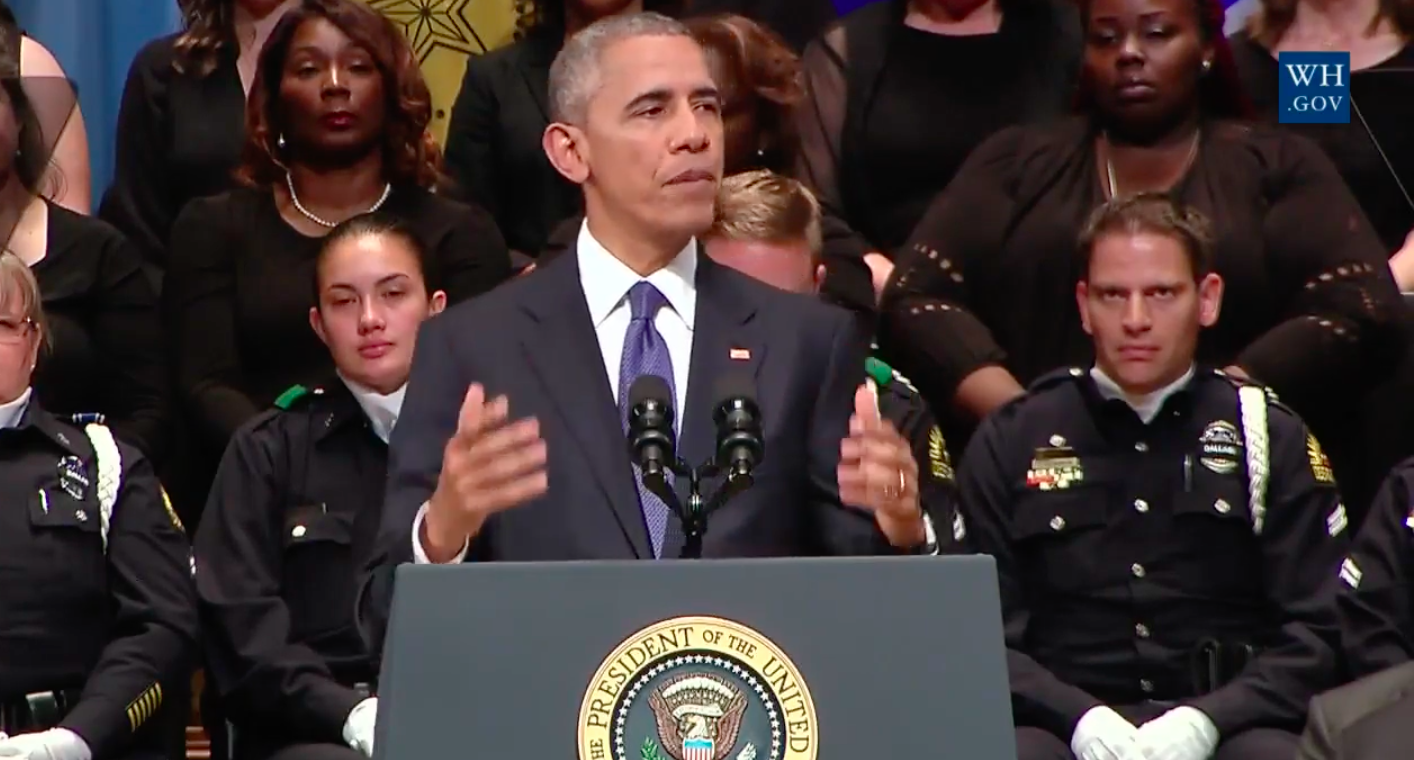 White House - whitehouse.gov
Baldwin's point in 1968 was that we were ignorant about race issues as a country, and as a society we were responsible for volatile situations between police and minorities. President Barack Obama's point in 2016 isn't very different.
At the memorial service for the five police officers, Obama said Tuesday that Americans need to have an honest conversation about race and the criminal justice system. He said that we expect too much of police officers and he also said that as a society needs to put more money into services that could help poor and marginalized communities.
"We also know that after centuries of slavery of racial discrimination, of slavery, and subjugation, and Jim Crow, they didn't simply vanish after lawful segregation," he said. "They didn't just stop when Dr. King made a speech or the Voting Rights Act or the Civil Rights Act were signed."
Atlantic author Ta-Nehisi Coates, who author and Nobel prize winner Toni Morrison compared to James Baldwin, echoed Obama's sentiments about society's responsibility. Until laws and policies are in place that can create an "equitable society," there will be more people like Dallas shooter Micah Johnson, he wrote.
"There is no short-cut out. Sanctimonious cries of nonviolence will not help. 'Retraining' can only do so much. Until we move to the broader question of policy, we can expect to see Walter Scotts and Freddie Grays with some regularity. And the extent to which we are tolerant of the possibility of more Walter Scotts and Freddie Grays is the extent to which we are tolerant of the possibility of more Micah Xavier Johnsons."
Share your opinion
Do you feel that race relations are significantly better than they were in 1968?