This Lesbian Asked for a Birthday Cake and Got This Disgusting Text Instead
July 14th 2016
By:
An Ohio bakery has come under fire after a lesbian couple claimed that it denied them service based on their sexuality.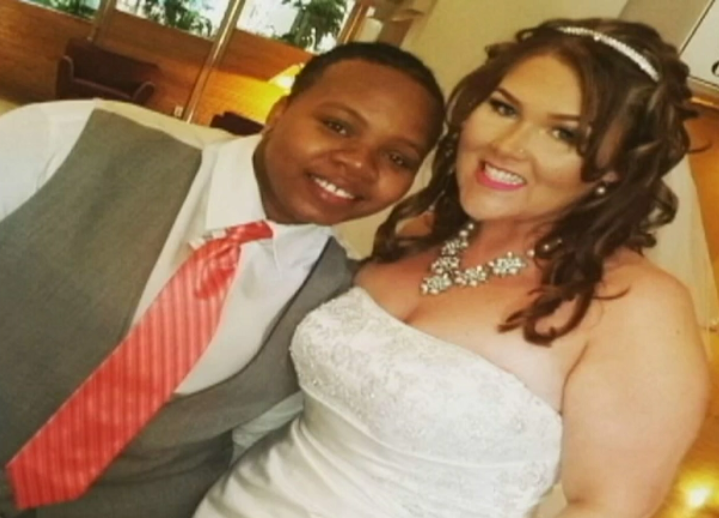 NBC 24 - nbc24.com
Ohio resident Candice Lowe told local news station NBC 24 that she contacted Take the Cake Bakery to make a birthday cake for her new wife, Amanda. But business owner, LeGresha Fizer-Brown allegedly decided not to make the cake upon learning from Facebook that Candice is in a same-sex relationship, Candice said.
Candice said that Fizer-Brown sent her the following text message denying her the cake: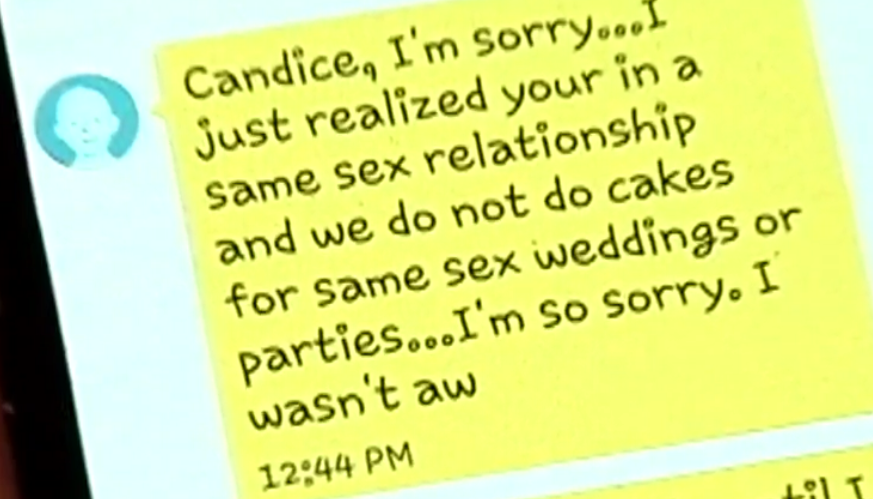 NBC 24 - nbc24.com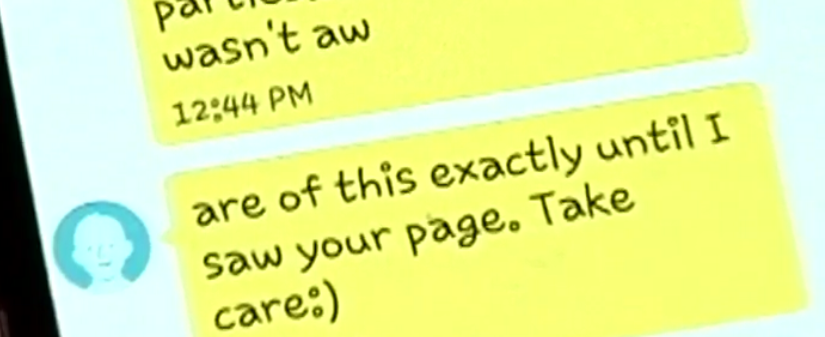 NBC 24 - nbc24.com
"Candice, I'm sorry...I just realized your [sic] in a same sex relationship and we do not do cakes for same sex weddings or parties," the text reads. "I'm so sorry. I wasn't aware of this exactly until I saw your page. Take care :)"
Candice told NBC 24 that the text message upset her, and many people on social media seem to agree. Some have even written complaints on Fizer-Brown's business Facebook page:
Facebook

Facebook
"It wasn't a wedding cake, it was just a birthday cake," Candice told local news station 13 ABC. "A birthday cake has nothing to do with your sexual preference."
13 ABC, NBC 24, The Huffington Post, and Peacock Panache all reported that they were unable to reach Fizer-Brown for comment. ATTN: has reached out to Fizer-Brown for comment and will update this story if she responds.
In 2014, an "Ohio Religious Freedom Restoration Act" proposal lapsed after its sponsors expressed concern that it would perpetuate discrimination against gay people in Ohio. Ian James of Freedom Ohio expressed concern that the bill was too close to one passed in Arizona and would have given business owners the right to turn gay people away.
"We never started out with some idea of giving people the right to discriminate. That doesn't work in this country," Rep. Bill Patmon, who sponsored the bill, told The Columbus Dispatch at the time. "If anybody knows me and knows my record, they know I've fought discrimination."
Read the full NBC 24 story here, and watch their video below:
Share your opinion
Do you know anyone who has ever faced LGBT discrimination?